JANUARY 2016:
The club's efforts during
January were focused on our biennial gem show
which was held on the 8th and 9th of January. For a
full report on the show, go to Page:
2016 GEM SHOW
FEBRUARY
: The new silversmithing room and
glass fusing area are getting a lot of interest from
members. Some of Diane W's glass fusing work is
shown in the photos 'above left'.
MARCH
:
Club members visited the Gemkhana at
Geelong. It was a good show with some great
displays and some good buy's were found by club
members in the tailgating area. Diane topped up her
faceting 'rough' , other members purchased
cabbing/tumbling supplies.
On Sunday 27th club members manned the BBQ at
Bunnings as a clubfund raiser. Thanks must go to
Kay Keen, the club's treasurer who did much of the
organisation and helped run the BBQ . The funds
raised will help pay for the club's running costs. L to
R: Bunnings staff member, Janice, Diane, Steve,
Diana.
APRIL
:
Following demand from members to do silversmithing, the
relevant area has been increased to enable Anthony to tutor more
members in the enlarged area. The glass fusing area had been
relocated and we hope this will improve facilities for all members.
24th. Three club members joined a dozen members of the Horsham
club for a fossicking trip to 'Morrisons', located between Geelong and
Ballarat. The weather was great and the Horsham members were a
great bunch to fossick with. It took a little time to locate what we
believed to be the correct fossicking area. Morrison's is a popular area
and there were plenty of campers in the area including bushwalkers,
trail bike riders and gold panners.
The first significant find was a large snake! They tend to come with
warm weather, water and lots of vegetation. Members kept a good
lookout after that. There were some finds and two cabs I cut are
shown above left. The chert does take a good polish!
Left: Fossicking in dry creek bed.
Kay Keen 'speccing' for chert.
Lunch break at Morrisons!
May
: Some of Kay K's recent glass fusing work is shown in the photos below. A new
area of activity for several of our members.
Therese fully focused on her
faceting!
Club members in the cabbing
area
June
:
Club members have
been making full use of the
silversmithing area since it
was opened. One example of
the lovely pendant is shown
left. The setting being
produced by Helen.
5/6/16 Three club members, Alan A., Kay K. and Diane W., travelled up to the Horsham gem show. The show
was held in the club's rooms located at 24 Roberts Av. in the centre of Horsham. The club's rooms are in the
'old police station', adjacent to the current police station. A very secure location!!
As always the club's members are very welcoming and friendly, a great group of lapidaries. They make
excellent use of the space they have with cabbing, silversmithing, faceting and display areas.
The photos below will give you a flavour of the show and clubrooms.
JULY
: While travelling north I visited Lightning Ridge, the famous opal mining area.
Unfortunately my visit was limited by extremely heavy rain which set in a few hours after I
arrived. However the photos below give some indication of the unique character of Lightning
Ridge!
During July I also had the opportunity to visit the Mackay Gem Club rooms/workshop. Like all
Gem Clubs I have visited they were most welcoming and helpful. They have great clubrooms
with an extensive range of equipment which was being well used when I visited.
They had a good range
of slab saws at the
Mackay club.
A few days later I briefly visited the Rockhampton Gem Club
rooms. They also have excellent facilities, partially as a
result of the considerable government financial support
available to community club's in Queensland (from
gambling funds).
July 9
The Hervey Bay Gem Club held it's annual show on the 9th and 10th of
July. The weather was lovely and a big crowd was in attendance while I was there.
The photos below give a flavour of the show. The club deserves to be
commended on the quality of its show.
AUGUST
Good to see a few more members making use of the club rooms. The silversmithing
and faceting areas are getting good use and thanks must go to John H. for guiding our new
facetors; and to Anthony M. for running the silversmithing area.
The club was grateful to receive some rocks from the collection of Roland Goldstraw (dec.), who
was a member of the club in the late 60's and early 70's. The stones will add to the clubs stock
of cabbing rough.
Sat. 13th. Club members (Kay K., Janice & Keith F., Alan A., Helen, Diane, Diana, Robert,
Anthony, Rod) spent the day manning the BBQ at Bunnings as a fund raiser for the club. Typical
August day with sunshine, rain and wind but we sold a lot of sausages!
Thanks must go to all the members who participated, especially Kay who does the
organisation. It is a great way for community groups to raise funds and Bunnings deserve
credit for enabling these events.
Photo below: L to R Bunnings member, Alan, Anthony, Rod, Kay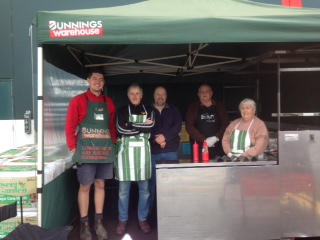 Sat. 20th Eight members of the Warrnambool Gem Club visited the Ballarat
Gem Club Show in Invermay Park. There was a good crowd moving around the
show with many people making purchases. Our club members took the
opportunity to obtain cutting materials, grits, polish and tools. A few photos
below give some flavour of the show.
September
15/9 The club is pleased to announce that we have received a grant from the Warrnambool
City council to help us purchase a new 'Hall Xtra faceting machine'. The council grant provides 2/3 of the
cost of the new unit and means we will now have two 'near new' faceting machines as well as the two
'ancient' machines we have been using. This will greatly assist in our teaching of the faceting art to new and
current members. Club members are most appreciative of the council's ongoing support for our club.
October
: 23/11
Members from the Warrnambool, Geelong and Ballarat clubs met at the Mt Shadwell
quarry for a mornings fossicking. Despite a poor weather forcast, conditions were good. Overcast but
not windy or cold. Some 14 members met Rod Steffenson and Alan Wood at the quarry and quickly got
down to the business of searching for the 'good volcanic bombs' that could contain gem grade olivine.
Alan Wood found two good bombs and I understand a visiting club member also found a 'gemmy bomb'.
After three hours at the quarry we went down to Alan Wood's home for a nice bbq and chat plus a look
at his collection. All up a good day.
November
: Thursday 3/11/16 Alan Altmann and Alan Wood visited the Koroit Primary School for
a 'show and tell' with class 3 and 4 students. Alan Wood explained the history of Mt Shadwell,
volcanic 'bombs' and the olivine found there. He showed some of his lovely faceted 'peridot' and
some olivine cabachons. Alan Altmann showed the varieties of quartz including amethyst, smokey
and citrine. Faceted quartz, tumbled and carved agates and some fossils were also handed
around. The students were enthusiastic and enjoyed the sessions as did the two Alans.
6/11/16
Eight club members attended the Geelong Gem show on Sunday. We had a good drive
down and it was great to catch up with many of the lapidary community from Geelong and
Melbourne. Members took the chance to stock up on grits, tools, faceting rough and some cabbing
material.
Cor Melis had a win in the spot raffle and we had a good lunch and chat with Geelong members.
The quality of the competition show cases was impressive with some lovely work being done by the
Geelong club members. Well worth a look

.
Cor Melis:
It is with regret that the club has to announce the passing of long term club member Cor Melis on Friday,
11/11/16. Cor was with club members at the Geelong show only last weekend and was organising a visit by the club to the
gem/mineral display in Portland (which he was instrumental in establishing) early next year. He had recently donated a
collection of gem magazines, from the USA, to the club library.
Cor had fossicked extensively around Australia and had cut/cabbed/tumbled agates, topaz, sapphires etc over many years
as a lapidary. He was active till the end, suffering a stroke on the Thursday before passing on the Friday at the age of 97.
He will be missed by all who knew him.
17/11 Club members Alan A., Kay K., Janice F., Helen B. and Robert H. attended the funeral of Cor Melis at the Catholic
Church in Portland. The church was packed with the many members of the Portland community whom Cor had known over
the years.
A few facts about Cor Melis.
He was born in February 1919 in Eindhoven, a city in the south of Holland. After finishing high school he entered the textile
industry, and later studied chemistry.
Early in 1939, when war in Europe appeared to be a distinct possibility, he was called up into the Dutch army at the age of
20, and after training, served in the 2nd Cavalry Regiment. This was a motorised unit equipped with modern anti-tank guns.
On the 10th of May 1940, Germany invaded Holland without warning, and for the next few days, he and his gun crew were
continuously in action in the south-east of Holland, defending bridges, firing on German tanks and troops, and on one
occasion derailing a returning German troop train. Four days later on May 14th, a message was sent out to all Dutch forces
to lay down their arms. Commanders were ordered to stop fighting and to destroy all their ammunition, although
skirmishes continued for another two days.
After Holland capitulated, he was made a prisoner of war pending the disbanding of the Dutch army. On being discharged,
he returned home and took up his former occupation as a textile worker and industrial chemist. However, like many young
people in occupied Holland, he was eventually sent to Germany in November 1942 as a forced labourer and put to work in
the oil industry as an analytical chemist.
He was initially stationed near Hanover, but a year later in November 1943 he was sent to an oil field in Austria close to the
Czechoslovakian border where his job was to analyse oil samples taken from the drill field. He was still there in late 1944
when the Germans were forced to retreat ahead of the advancing Russian army. Left to his own devices when the Germans
abandoned the oil field, he attempted to return home but was caught up in the front line fighting. He was arrested by the
Russians who suspected him of being an escaping enemy soldier disguised as a civilian, and it was only by nervously singing
the Dutch national anthem that he was able to convince the Russian interrogator that he was on their side, and so escape a
firing squad.
When the war finally ended in 1945, he was simply one of millions of displaced persons left stranded throughout Europe.
Over the following months, he made his way to the west on foot, jumping trains, and travelling by any means possible. He
finally returned home in mid-September 1945. In 1945 he was awarded the Bronze Cross and bar by the Dutch Government
for exceptional war service.
In 1947 he married Nelly, and in 1950 they decided to leave Holland and make their home in Australia, because it offered a
much better future than post-war Europe.
Because of his chemical engineering background, he was offered the job of completing the partially constructed cement
works in Port Fairy, and so became the Works Manager. He later resigned and took up a position at Glaxo Allenbury as head
of the fermentation division manufacturing penicillin.
In the meantime he had developed a keen interest in photography, and joined the Warrnambool Camera Club. In 1963 he
was offered the opportunity to take over a photographic business in Portland at 11 Julia St which he operated till 1982.
In 1966 Cor was invited to join Rotary, an organisation with which he was associated for the rest of his life. He was also a
Life Member of the Portland Camera Club.
L: Nellie and Cor.
R: Cor Melis the industrial
chemist.
L: Cor Melis.
R: Cor Melis the
photographer.
Nellie and Cor sold the photography shop and retired in 1982, and then began a second career as enthusiastic gem diggers and
collectors. It was a great partnership. Cor found, cut and polished the stones, and Nellie picked out the best ones and kept those for
herself. Somehow, they both seemed to be happy with this arrangement. They also particularly enjoyed attending the various
markets displaying and selling their stones and gems.
Steve Morgan (below), with help from other club members, produced this 'Gem Shield' for use by the Warrnambool Hospital. It
contains petrified wood, Moonlight Head agates and Mortlake Peridot on a timber base. It will be used in competitions between units
in the hospital. A great effort by Steve.
December
8/12/16 Club members Alan A., Janice F., John H., Gillian H., Steve H. and Siobhan V. ran pendant
making and 'pet rock' making activities at the Bunning's family Christmas night. We were all 'flat out' for
the two hours as many children took part in the activities. Members enjoyed the evening and the
enthusiasm shown by the children.