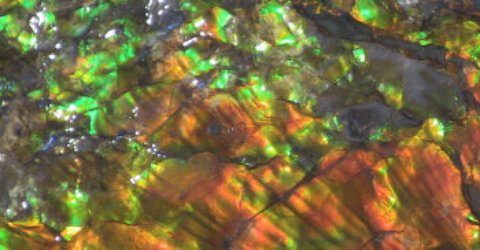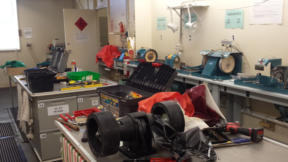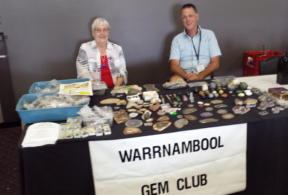 Thursday 9/2/17 M
embers at Axess Glass Products in
Melbourne at a workshop on glass fusing & slumping. The
workshop was arranged by Steve M. See slide show above.
J
ANUARY
Jeff
,Steve &Alan,
replaced bearings
in the grinders
and trim saws.
The new drum
sander was
installed, some
shafts were
'repaired. This
reduced the noise
level in the club
rooms
significantly.
FEBRUARY
4-5
Members
manned a stall at
the
local 'Bottles
& Collectibles'
show to publicise
the club and raise
some funds. The
photo shows Kay
and Jeff at the
club stand.
18 & 19 April Several club members attended the Victorian
Gemkhana at Shepparton. They reported that they had a good
weekend with some of the 'facetors' happy with their results in
the faceting section of the show. Well done John and Kathleen!
Row 1: Competition cabachons. An attractive display of
Mookite
Row 2: Once again, John did very well with his faceting!
Kathleen also achieved a result she was very happy with.
Row 3: John & Kathleen at the faceting demonstration.
Row4: Part of the show. Show raffle.
Row 5: Tumbled stones competition entries. An attractive
display of bone carving.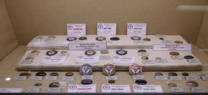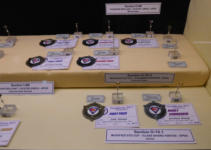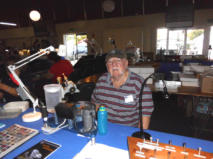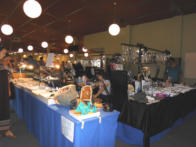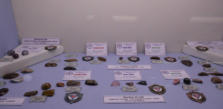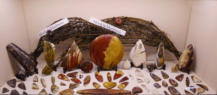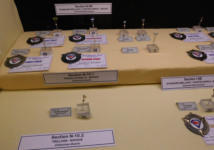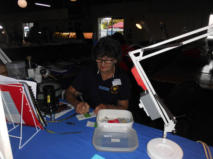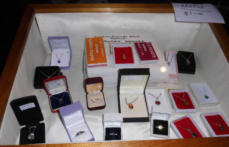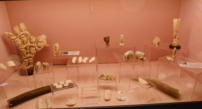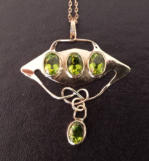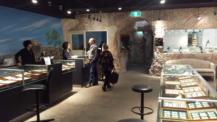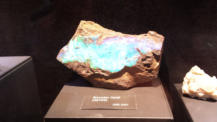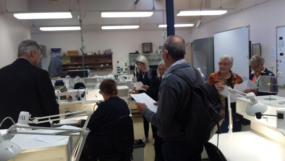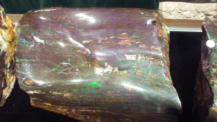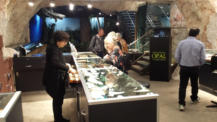 Below Left: A 9 ct gold pendant with four peridot gems,
constructed by club member Helen.
5/4/2017 Eight club member travelled by train to
Melbourne on a trip organised by Steve M. The day started
at the Gemmological Association of Australia in Spencer St.
Members had an excellent tour of the facilities with the
laboratory testing equipment being well explained. We also
had a good look at the GAA's gem & mineral specimens.
This was followed by an excellent Vietnamese lunch. We
also visited a jewellery store, opal display, Koodaks lapidary
supplies and Crystal Universe during the afternoon. A great
day.
Row 1: At the GAA.
Row 2: Viewing the opal display.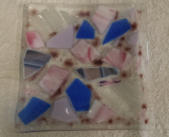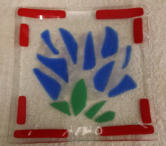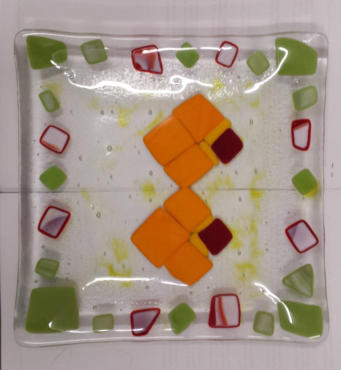 Diane's two
completed
platters
Kay's two
completed
platters
Kajol's
completed
platter!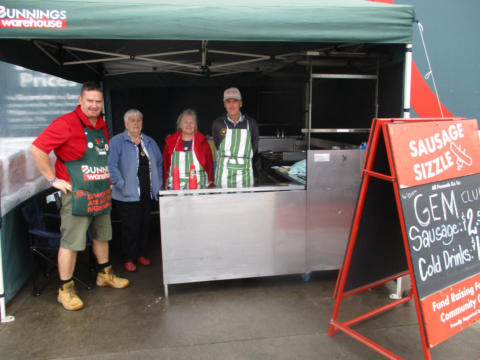 22/4/2017 Club members manned the BBQ at Bunnings
again. It is a handy fundraiser for the club, helping to
'balance the books'. A large number of members assisted
over the day, and once again thanks must go to Kay K. for
organising and managing the BBQ. Photo above: L to R
Bunnings staff, Kay K., Helen B., Alan A.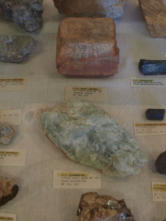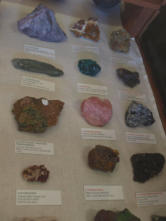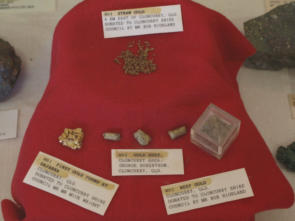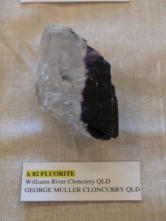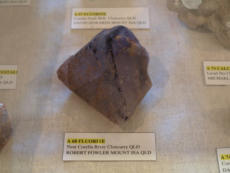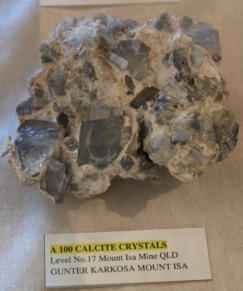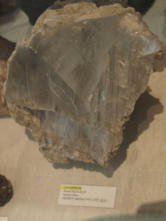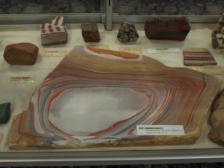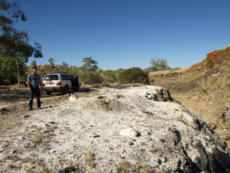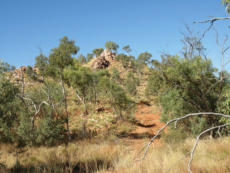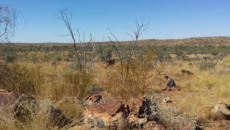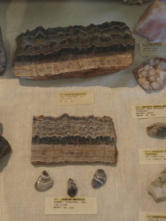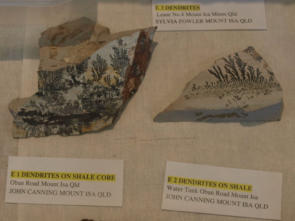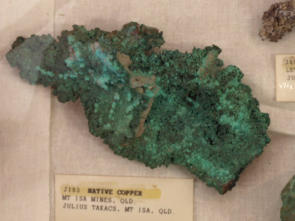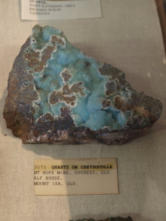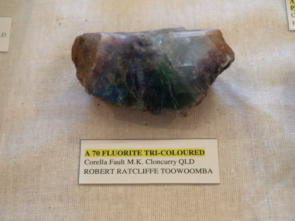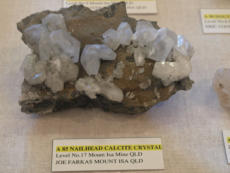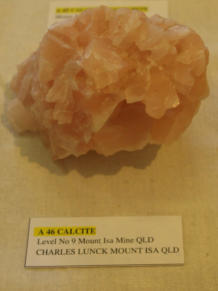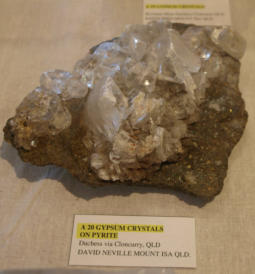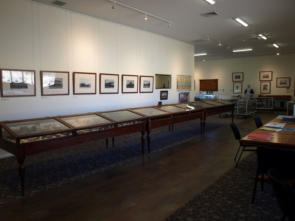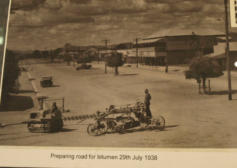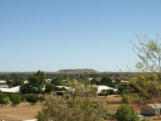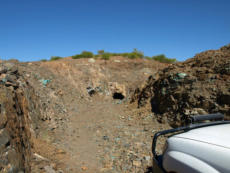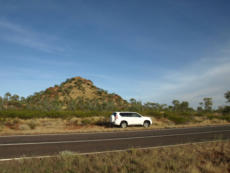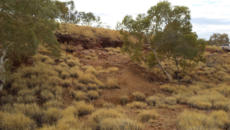 June

: We are still getting a good turnup to the club
workshops though several members are fossicking in
warmer climates at present. I had the opportunity to travel
to Qld, fossicking at Mt. Isa/Cloncurry area for a week,
taking in several fossicking areas over a number of days
where Igot some 'phantom quartz', amethyst, garnets,
calcite and Chrysocolla specimens. I then spent time
fossicking at Agate creek.
The photos to the below show parts of the mineral
collection in the tourist information building in Cloncurry,
as well as an interesting selection of historical photos of
mining localities in the area. Well worth viewing before you
venture out fossicking as the localities take on far greater
meaning.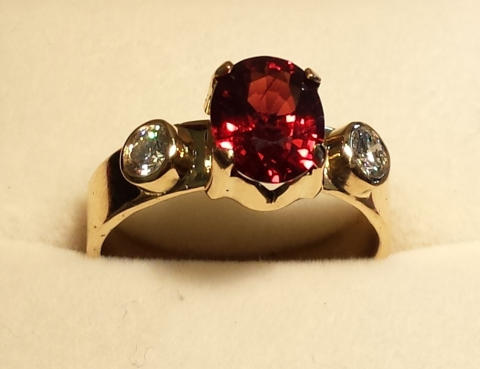 July
A faceted red Spinel gem (above), plus two diamonds,
set in 18 ct gold by one of our club members. This is a great
example of the standard of work members can achieve.
Below: Some of the material collected on a recent trip to
Cloncurry.
L: Malachite (8cm),
L: Malachite and
Chrysocolla (13cm)
L: Red and White
Calcite (largest
12cm).
L: Chalcopyrites
(8cm)
L: Chevron Quartz
(flat lapped and
cabbed. The quality
of this material was
highly variable.
Some was 'clean'
and solid, while
other peices were
cracked and had
iron stains
throughout.)
L: Chevron Quartz
(flat lapped, 14cm. )
R: Native copper
(10cm)
R: Some 'freeform
cabs' for pendants.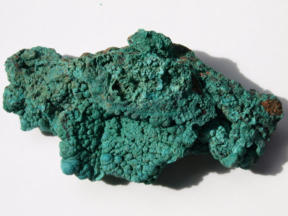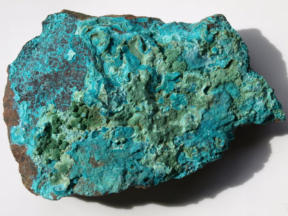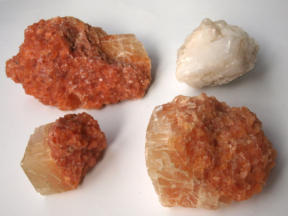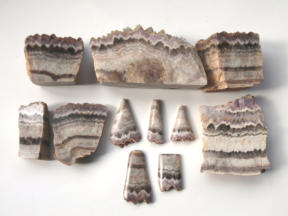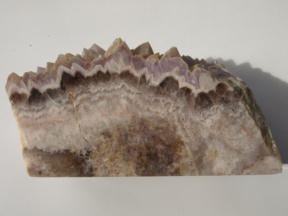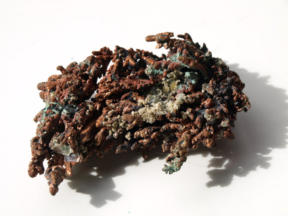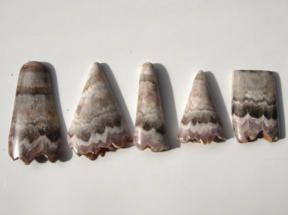 August
Club members have been hard at work
improving our club facilities. Old cupboards damaged
by damp have been repaired, walls have been
rendered and painted, a glass partition installed and
new bench space constructed for faceting, glass fusing
and silverwork. Thanks must go to Steve M. for the
work he has done on this project, also to Alan A., Jeff
G., Helen B. and Linda G.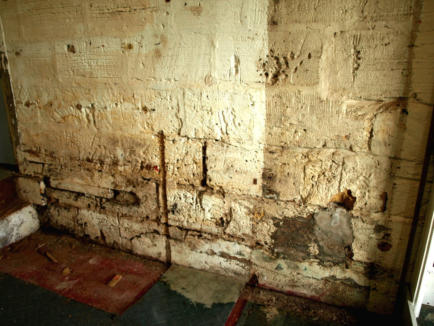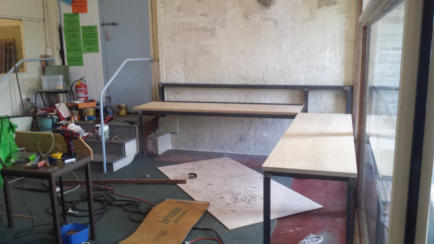 Three photos above: Top: Sandstone wall prior to
rendering/repairs. Middle: Bench frame partly
constructed. Bottom: Installing bench tops.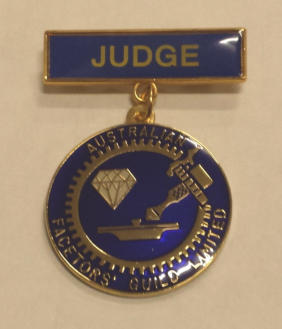 October:
One
of our club
members
recently
successfully
completed the
AFG judges
course in NSW.
A great effort by
the member
concerned. His
judges badge is
show to the left.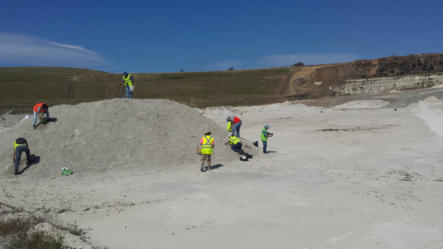 Sunday 29/10 Eight Warrnambool club members joined
Geelong club fossickers at the Fyansford quarry to fossick
for fossils. It was a good day, though the sharks teeth
were scarce. However, several members collected sharks
teeth and other fossils and went home very satisfied with
their finds.
November
:
At the club's A.G.M. the new executive for
2018 was elected.

President

Alan Altmann,

Vice-
President
Helen Butrumlis,
Secretary
John Coxon,
Treasurer
Stephen Hinkley. Kay keen was elected as an
'ordinary member' of the committee.good
Sunday 26th Members from the Warrnambool, Colac
and Geelong clubs travelled to Mt Shadwell to fossick for
Peridot and other minerals. The day was overcast but dry
and the temperature was good for fossicking. Some
peices of gemmy peridot were found along with some
anothoclase felspar. Specimen 'volcanic bombs' were also
collected by several fossickers. At 1 p.m. members of the
three clubs returned to Alan Wood's home for a BBQ and
a look at Woody's collection. A great time was had by
those present.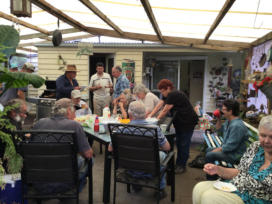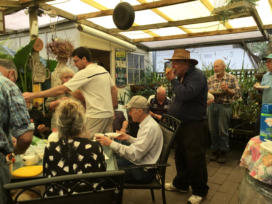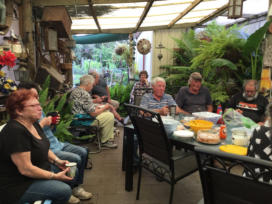 The three photos
to the left show
members of the
Geelong, Colac and
Warrnambool Gem
Clubs enjoying the
BBQ at Alan &
Jenni Woods
home. A large
amount of food
provided by
members from the
three clubs made
for a very relaxing
afternoon after the
mornings
fossicking.
December
3 Club members run a Bunning's BBQ today. It
provided a good day of interaction with the public for club
members. It also helped the club's budget. Thanks again to
Kay for her hard work in organising the club's participation.
& 2018 Activities
JANUARY FEBRUARY MARCH APRIL MAY JUNE JULY
AUGUST SEPTEMBER
OCTOBER NOVEMBER DECEMBER
2018
January
1/1/18
Club members Steve, Jeff, Linda and
Alan erected the new banner advertising our show on the
end of the Warrnambool Primary School Hall.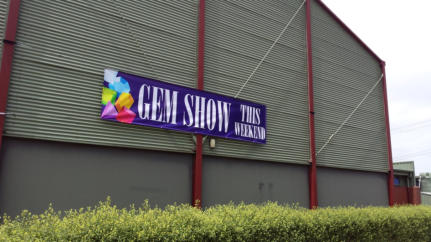 June
15
Club members Alan A. and Helen B. visited
Brauer College in Warrnambool, where they conducted a
talk on the Volcanoes and gemstones of S.W. Victoria.
Discussion about a range of gemstones and rocks along with
gem identification methods completed the two period
Science class (which was doing a Geology unit). A gem and
mineral collection was left at the school for future use as
they had no rock collection at the college.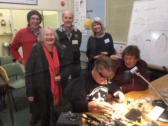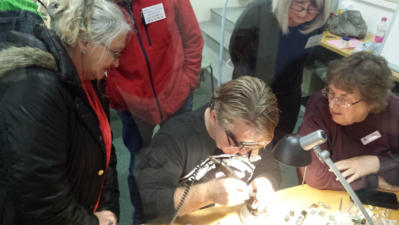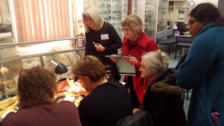 March
17: Our club members celebrated the club's
50th year in operation with a luncheon at the club
rooms. As well as current club members we had
previous members and the Warrnambool Mayor
present. It was a great lunch with contributions from
many members, with a special mention going to
Janice, Keith, Steve, Alan and Helen for the time they
spent preparing for the day. Photos below!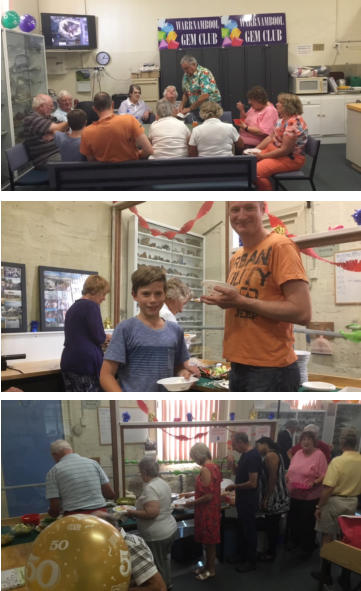 Due to the day being a 'total fire ban day', the club changed
the menu from a BBQ to cold meats and salads. This turned
out to be a good move, and the desserts that members
brought along provided a great end to the meal. The
Warrnambool Mayor, Robert, was present and related his
experiences as a teenager in the 1960's when he spent
several months, along with other members of the YMCA,
dismantling the interior of our current clubrooms. At that
time the building still contained large motors, water pumps
and switchboards; it had served for decades as the
pumping station for the city, with the water storages located
next door.
As well as current members it was great to have a number
of past club presidents present (Noel Wickson, Robert
Lanchberry, John Colledge) and past members.
May 12
Nick Campione demonstrates gem setting to
club members. The demonstration was most informative,
especially the finer aspects of the setting of gems.
Members and Nick finished the day with a pleasant meal
in the evening. Nick travelled from Melbourne to show
members the techniques he had developed over decades.
July - August:
I had the opportunity to visit a number of
gem clubs while fossicking in Queensland. It was great to
see the facilities at several clubs and I appreciated the
courteous and friendly nature of the club members I met.
Yeppoon Gem Club.
I visited the club when the
President, Peter, agreed to meet me there so I could have
a look at their facilities. The club is located in the
showgrounds and makes good use of it's space. The club
has a good range of lapidary and silversmithing
equipmemnt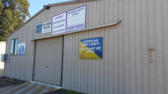 Peter invited me to his home for lunch (which was
delicious) and I had a chance to look at some of his
silversmithing and metal work. Very nice as shown in the
photos below!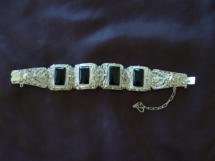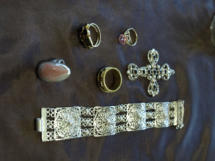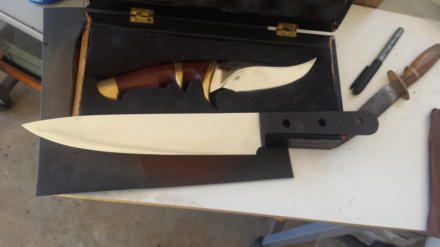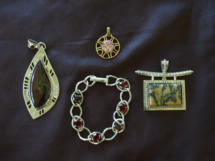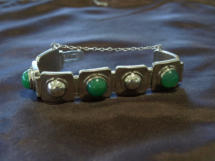 The

Bundaberg Gem Club

is located in the showgrounds
among a large number of other clubs. When I visited, the
club president Deanna was very welcoming and gave me the
full tour of their premises. The club started in 1965 in a small
dirt floor pavilion at the old showgrounds. It relocated (in
1990 ) to the current location, in their own building at new
showgrounds.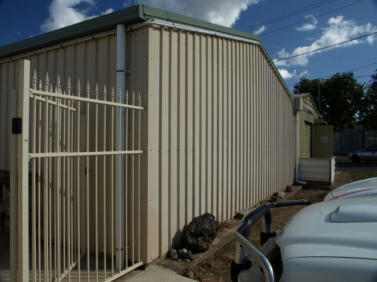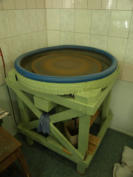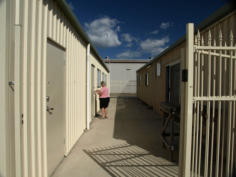 Front of
the club
rooms
with the
main door
in the
distance.
LHS PHOTO ABOVE: The building on the rhs is the
original portion of the club (also top photo), on the left of
the concrete path is the 'new' addition.
RHS PHOTO ABOVE: good use of a tyre for the flat lap
surround.
BRIBIE ISLAND GEM CLUB:
I visited the club for a few hours.
The club is a block back from the beach in a quiet spot. Like
the other clubs I visited, the members were friendly and
happy to show me around.
LHS: external
view of club.
RHS: cabbing
room
L to R:
silversmithing
area, cabbing
units ,
faceting area.
NOVEMBER
10
COBRICO/CAMPERDOWN TRIP
Twelve
club members travelled to view a fantastic collection of
Australian gem material. The collection was fantastic, it
contained many large specimens of flat lapped gem material,
most of it of very high quality. The finish/polish of the
specimens, which was all done on home-made equipment,
was excellent and a tribute to the owner of the collection.
Members had a great time which included a look around the
garden and a fabulous luncheon with all members bringing
along a contribution.
After visiting the collection, members drove to Lake Bullen
Merri, near Camperdown. We spent time fossicking for
zircons (very small specimens only) and epidote crystals.
Larry and Jenny did well and Marian found a zircon too. We
then drove up to the Camperdown Botanic gardens which
have spectacular views over the volcanoes and lakes of the
area. We were able to see as far as the Grampians. Well worth
a visit!
Above
: Top row L: 'Bottle Tree', Top R: 'Pantry"
Middle row L: some of the collection, M: Jasper R: Mookaite
Bottom row: Jenni & Larry sorting zircons!
L: Epidote and
zircons, size
relative to $1
coin is obvious.
R: Zircons, 1 to 3
mm, lustrous
but fractured.
L: Closer view of
Epidote crystals.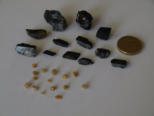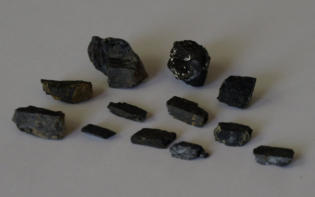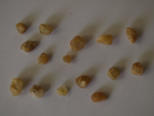 DECEMBER
It is with regret that the club has to
announce the passing of
Roslyn Taylor (Brunt)
. Roslyn was a
long term member of the club. She introduced several of her
friends to our club and they have gone on to become valuable
contributors and committee members over the years. Our
condolences go to Ray and Ros' family. She will be sorely missed.