Fossicking

in the Harts Ranges,
By Alan Altmann, Warrnambool Gem Club, 2003
In July 2003, I traveled from Warrnambool, Victoria, up to the Harts Ranges in central Australia. The area is a popular fossicking area
for us 'southerners' (and folk from the other states as well) in winter.
I was driving a Toyota Prado (diesel), towing an A-van. After many years of using tents I had decided I deserved some
additional comfort as 'times goes by'. The combination worked well, being relatively fuel efficient (averaging 11.1 l/100km for the trip)
for a vehicle towing a van.
I am a member of the Warrnambool Gem Club in western Victoria, and it was two club
members, Bill and Phyll Rodgers, who introduced me to the hobby some 40 years ago. Now
93, Bill still cuts and polishes gemstones and is a wealth of knowledge on the subject. He
and Phyll have often said that it is important to get out and do what you want to before you
get too old. I have finally taken their advice!
BILL ROGERS (95 years young in 2006) CAN STILL PRODUCE MAGNIFICENT FACETED
GEMS ON HIS 'FACETRON' FACETING MACHINE, WHICH HE PURCHASED AFTER
WEARING OUT HIS 'IMASHI' FACETING MACHINE
I arrived in Alice Springs in late July and after a day of sight seeing in Alice I headed out to
the Harts Ranges. I decided to stay at the Gemtree Caravan Park as it provides facilities
which one comes to appreciate. Having clean toilets, washing facilities and an electricity
supply are definite pluses if staying in an area for an extended period of time. Access to a
warm shower at the end of a long day's digging is a great luxury for a weary back; and being
able to put on the heater at night is a bonus (OK, I admit I am getting 'soft' as I 'mature')! In
July the weather can be very cold at night, so warm bedding is essential and I ended up
using a high quality super-down sleeping bag to great effect. Alternatively you can wear the
socks and a beanie to bed!
Another plus I found with the park was the friendly group of facetors who were staying there. Quite a few AFG members were
present, which was pleasing to see. As an alternative to Gem Tree, you can camp out at the 'Mud Tank' field itself if you wish. You
basically need to be self-sufficient, though the Alice Springs Gem Club has constructed a toilet on site which helps overcome one
problem!
On my first full day in the Harts Range, I drove out to one of the garnet fossicking areas, located some 34km east of Gemtree. The
drive in to the location was noticeable for the number of corrugations (about 500 billion at least!) and I was glad when I reached the
specified locality. I spent half a day with limited success, collecting mainly small 'chips' of garnet, so I drove a further 2km on to a
second location suitable for specking. I had been to that spot once before and had found the terrain most suitable for getting lost in.
The trees are numerous and about 4m high, so it is easy to become disorientated. There are several small ridges running into each
other, with a series of intersecting (dry) streams. After walking and specking for 2hrs, and finding some nice garnets, I headed back to
my vehicle. However it was not where I thought it was! With a mountain to my north and the access track to the south I knew I could
locate my vehicle eventually but it could take some time. Fortunately, I had taken the precaution of taking a GPS with me and so was
able to locate my vehicle very quickly. At such times one is grateful for such modern technology!
A LOT OF DIGGING WITH FEW GARNETS TO SHOW FOR THE EFFORTS!
SOME TYPICAL GARNETS 'SPECKED' FROM THE HARTS RANGE.
My second outing was to the Disputed mine on Mt Palmer. This involved a drive
some 75km along the Plenty Highway to the Atitjere Community. The turn off to
the mine is just on the west side of the Harts Range Police station. The highway
out to the community from Gemtree was excellent, having just been graded for
the 'Harts Range Races' the coming weekend. The track into the mine passes
the race course and was in good condition up to that point. Then the dreaded
corrugations appeared till the 'Spotted Tiger campground' was reached. From the campground, until reaching Mt Palmer, the 'goat
track/road' is definitely 4WD only. Even in a 4WD vehicle the going is slow and rough. It took me some 50 minutes to travel the 14km
from the highway to Mt Palmer!
Upon reaching the parking area at the base of Mt Palmer, I was not overly
surprised to see two other 4WD vehicles parked there. After recovering from the
drive in, I loaded up my back pack and commenced the 30 to 40 minute walk/climb
up to the 'Disputed Mine site'. The walk up to the mine will provide you with some
good exercise, though a marked track makes progress easier than it would
otherwise be.
THAT LITTLE WHITE PATCH IN THE CENTRE OF THE PHOTO IS THE
MULLOCK HEAP FOR THE DISPUTED MINE. THE PHOTO WAS TAKEN FROM
THE 'CAR PARK'
Halfway up the track, I looked up and could see a fossicker working on the large
mullock heap below the disputed mine. I thought the person had a familiar
appearance, even at that distance. When I eventually staggered up the mullock
heap I was happy to see another member of the Warrnambool Gem Club hard at
work.
LARRY AND HIS DOG DIGGING IN THE MULLOCK HEAP OF THE DISPUTED
MINE FOR SOME OF THOSE BERYL CRYSTALS!
'Larry' had been up to the mine on several occasions and has collected a significant
number of beryl crystals from the mullock heap. The crystals are large, but
invariably fractured into small fragments. However, one crystal can provide several
good pieces of faceting rough if you are lucky enough to find such a crystal. The
technique is basically to dig into the mullock heap until you reach the underlying
natural surface, then slowly work your way up the slope. That way you tend to get
into the larger rocks amongst which you are more likely to find the beryl. The
difficulty is that the fine mica schist on the mullock heap invariably tumbles down
into any excavation you make! You can dig for an hour, have a nice excavation underway and 10 seconds later it is all filled in with
sliding debris. After this has happened several times you come to appreciate the amount of work involved in finding even one beryl
crystal! You also come to appreciate the amount of hard
work the original miners must have put in. Larry ended
the day with several nice pieces, including a section of a
blue beryl crystal from which he should be able to cut
several stones. I had less to show for my efforts, but had
some small beryl pieces and some mineral specimens
LEFT: SOME OF THE MANY MINERALS THAT EXIST
AT THE DISPUTED MINE SITE, JUST BE PREPARED
TO SHIFT A LOT OF ROCK!
At Larry's suggestion, I climbed to the top of Mt Palmer
to have a look at the views. That involved a 1 hour
round trip and was well worth the effort. The views are
truly spectacular, with mountains extending into the
distance, both east and west; while flat planes stretch to
the north. The geology of the area is very apparent from
Mt Palmer, with the tilted and folded strata and erosion
patterns easy to observe. The trip to the Disputed mine
provided a great day's outing but is not one to be
undertaken lightly. There are a number of deep open mine
shafts near the summit, so take care if walking in that
area.
THE VIEW FROM THE SUMMIT OF MT PALMER IS TRULY
SPECTULAR AND WELL WORTH THE HIKE TO THE TOP
My third excursion from Gemtree involved a visit to the Mud
Tank zircon fields. I had tried to fossick here several years ago,
but had arrived on the day it started raining for 3 consecutive
days (after several months of drought) and had been unable to
access the fields. This time I had been blessed with clear blue
skies every day and so was looking forward to doing some
fossicking.
One of the good things about fossicking is the many
lovely people your meet. On my arrival at Mud Tank I met a
Kevin Boarer from Sydney who showed me the way to pick out
the zircons in the wash and generously let me dig in his hole
as he "had found enough zircons". I spent several hours
digging in the hole over 2 days and discovered it to be hard
work for someone not used to such exertions. The 'wash' was
only about 300mm below the surface where I was digging but it
was tightly packed and difficult to extract, even with a pick!
Eventually I obtained a modest container full of zircons.
However, upon careful examination at the end of the second
day it was clear that that many of the zircons were not cutters.
But I did have 4 nice pieces that would cut 6mm stones and a
large number that would cut 3-4mm stones. So I was happy
with the finds given the time I had spent digging!
LEFT: DIGGING FOR ZIRCONS ON THE FLATS BETWEEN
SPECIMEN HILL AND ZIRCON HILL
SOME OF THE REWARDS (ZIRCONS AND APATITE) FROM
DIGGING AT 'MUDTANK'.
The following 2 days I decided to give my back a rest and went
'specking' for garnets north of the Plenty highway, opposite the
'Gemtree lease'. The first day I got a number of small clean
stones (4 to 5mm) close to the Plenty highway. The second
day I ventured further into the shrub and found some larger
garnets as well as many clean smaller stones, varying from the
deep dark red to the light purplish-pink tones. Once again the
GPS came to the rescue as the terrain I was fossicking in was
flat with 4m high trees in abundance. With cattle tracks leading
in all directions, and many small dry stream beds in the area, it
is very easy to become disorientated.
IT IS VERY EASY TO LOSE TRACK OF YOUR POSITION
WHEN SPECKING IN THE FLATTER AREAS NORTH OF
THE PLENTY HIGHWAY. MAKING SURE YOU CAN FIND
YOUR WAY BACK TO YOUR VEHICLE IS IMPORTANT.
One of the good things about the Harts ranges is that it is the
home to many different types of minerals. It is also a great
place to visit if you simply wish to get out of the city and spend
some time in natural surroundings. I only spent 2 weeks
fossicking in the area and appreciate that I still have much to
learn about the minerals/gemstones in the region. Next visit I
will be better equipped for my fossicking and I will allow extra
time for exploration of the many mining sites through the
ranges. Larry, who was getting towards the end of some 9
weeks in the ranges, has become familiar with the area over
several years. Generously he showed me the location of a
rutile mine where we spent a few hours and collected a
number of small rutile crystals for our efforts. Nearby we spent
some further time digging up some quite attractive sunstone.
There are many deposits of minerals in the area, but most are small in area and if exploited/abused, could be quickly ruined for the
amateur fossicker! However, if treated sensibly, the Harts Range should provide enjoyable fossicking opportunities for many years to
come. If you have the chance to visit central Australia consider a trip into the
Harts Range!
A FEW HOURS DIGGING ON THIS SITE YIELDED A NUMBER OF SMALL
RUTILE CRYSTALS PLUS QUARTZ CRYSTALS.
SOME USEFUL INFORMATION ON FOSSICKING IN THE NORTHERN
TERRITORY:
FOSSICKING PERMITS: If fossicking in the N.T., you require a permit which
should be carried with you at all times. There is no charge for a personal
fossicking permit and they can be obtained from:
Department of Business, Industry and Resource Development, Minerals House, 58 Hartley Street, P.O. Box 8760 Alice Springs, N.T.
0871., Ph. (08) 89515658, Website: http://www.nt.gov.au/dpifm/Minerals_Energy/index.cfm?header=Minerals%20Home
Central Australian Tourism Industry Assoc. Inc., 60 Gregory Terrace, P.O. Box 2227, Alice Springs, N.T. 0871, Freecall 1800 645199,
e-mail: visinfo@catia.asn.au, Website: www.centralaustraliantourism.com
'Outback Gems', Coles Village, Alice Springs; Ph. (08) 89529299
More information is available at: www.fossicking.nt.gov.au
FOSSICKING EQUIPMENT: basic equipment would include 2 sieves (6mm, 12mm), 2 large plastic basins to wash the sieves in, a
shovel and pick, containers for carrying water for wet sieving, containers for holding the minerals, a portable table or board on which
a sack or similar can be placed when sorting the sieved material and a geological hammer. Recommended additional equipment
would include: a large magnet for separating the magnetite from the zircons, gardening gloves and eye protection plus a 'shaker'. If
you plan on doing more than a single day's digging, a shaker is highly recommended! For those only planning a quick visit to the area
for one or two days fossicking, 'Gemtree' provide the necessary equipment as part of their guided tours.
It is also important to consider your safety when fossicking in remote areas. Always carry additional supplies of water, wear suitable
footwear and protection from the sun. A well prepared vehicle and first aid kit are essential. Notify people of where you are going and
consider the use of a G.P.S. and emergency beacon, they offer cheap insurance in an emergency.


SOME OF THE BEAUTIFUL HARTS RANGE
MINERALS THAT

'LARRY'

FOUND!
By Alan Altmann (2003)
In July/August 2003 I traveled up to the Harts Range in the Northern Territory for a few weeks fossicking. While up there (refer my
previous article in M.S.G.) I came upon another member of the Warrnambool Gem Club, namely 'Larry'. Larry spent some 7 weeks
fossicking in the Harts Range this year, as he loves the wilderness and freedom of the area as well as the thrill of fossicking for the
regions gems.
Larry has visited the Harts Range 6 times to date, traveling in his 11 year old Ford Courier 4WD, generally with the company of his
dog 'Belle'. He has got to know many of the locals in the area and uses a combination of their knowledge/assistance, and basic hard
work on his part, to track down the many minerals in the area. He has traveled extensively in the ranges, searching in many areas for
the gemstones we all desire.
Larry emphasized to me the importance of obtaining permission prior to entering many of the areas he visits. He has found locals
helpful, providing you do the right thing in the first place (asking permission, not leaving a mess, not disturbing the stock, not lighting
fires during hot periods etc.).
Recently I had the opportunity to view some of Larry's finds and I have recorded these pictorially in this article. I am sure that the sight
of (this small selection of) Larry's minerals will encourage some of you to pay a visit to the Harts Range in the future!
The first group of minerals, which are shown below, are variously coloured beryl crystals from the Disputed Mine on Mt Palmer. The
crystals vary enormously in size, the 20 cent coin in the photo giving you an idea of the scale involved. Many of the crystals contain
pieces of beryl suitable for faceting, with the colours ranging from golden yellow to orange to green to deep blues.
LEFT: The beryl crystals from the Mt
Palmer area range significantly in both size
and colour.
RIGHT: The 'gemmy' nature of some of the
material is clear from these beryl crystals
and pieces of Golden Beryl and
Aquamarine.
A beryl crystal, tourmaline crystals and
muscovite in Albite.
When you are digging in the mullock heap
at the disputed mine, you will frequently
find that your progress is slowed as the
finer material collapses/pours into the hole
you have dug. However, during one such
'cave in', Larry was pleasantly surprised
when a large Smokey quartz crystal with a
white coating over much of the exterior
(see photo left) rolled down the slope and
stopped at his feet!
Near the 'Kong Bore', Larry has obtained
some very nice sunstone during the last
two visits. The quality of the sunstone
varies markedly, with the better quality
material being transparent, with impressive
'schiller' and 'rainbow lattice' effects.
Left: An example of the sunstone from the
Kong Bore locality, showing the lovely play
of colours characteristic of this material.
Above Right: Small rutile crystals founby
sieving through dump material. displaying
some of the beautiful red sheen
characteristic of these crystals.
For the more energetic (and well prepared) individuals, another area to visit is the 'Entire Valley', accessed from the Plenty Highway,
some 28 km east of the Harts Range police station. The tracks in this area should be treated with care, and if fossicking in this area
you will probably be camping out in the valley for at least one night to make the effort worthwhile! There are leases in the area, so
check before entering and obtain any necessary permission.
Larry obtained some nice minerals from the Entire valley and some of these are shown left.
Those gems and minerals are still out there to be found in regions such as the Harts Range. It takes some time and effort on the part
of the fossicker, but as Larry's collections shows, it can be done. Happy fossicking!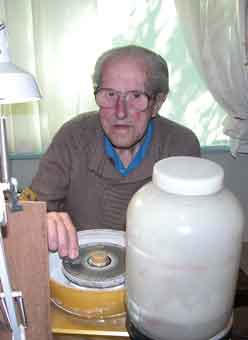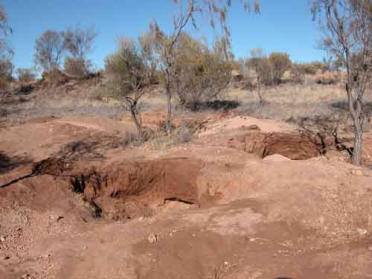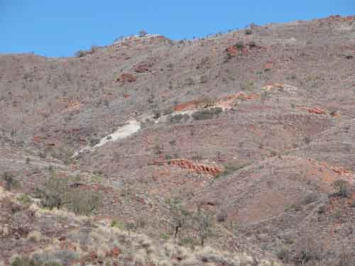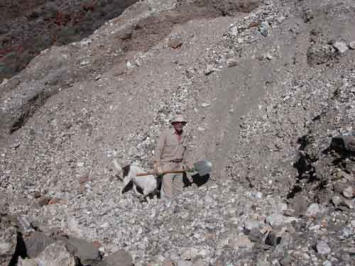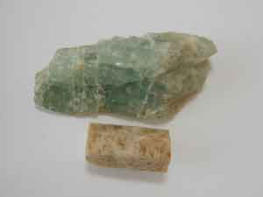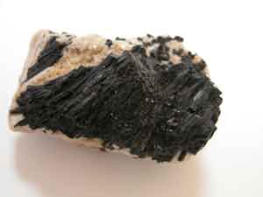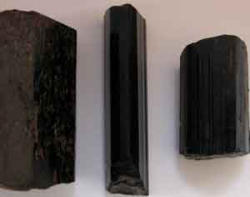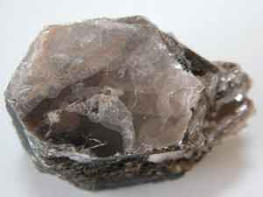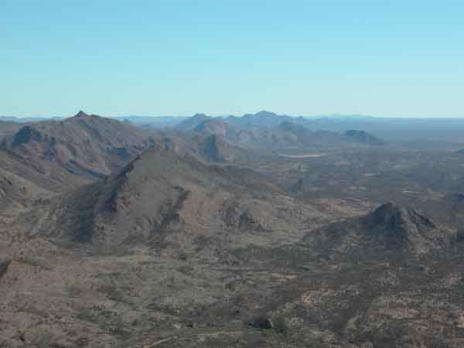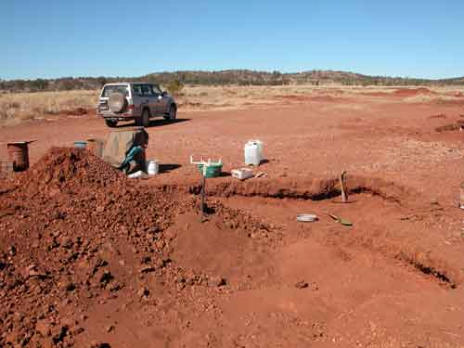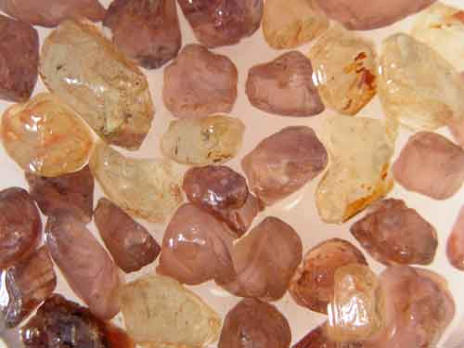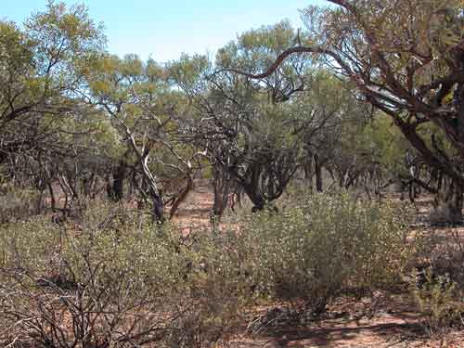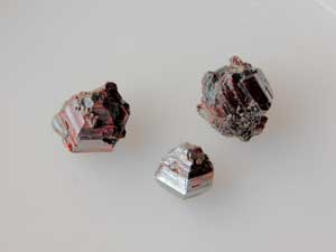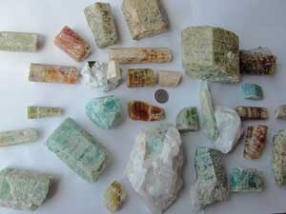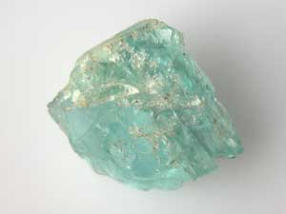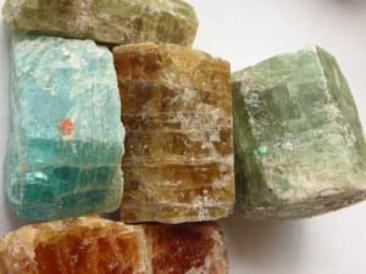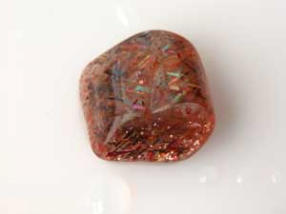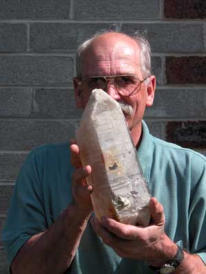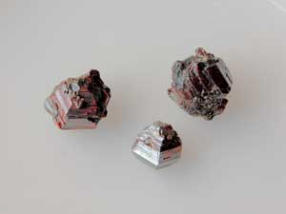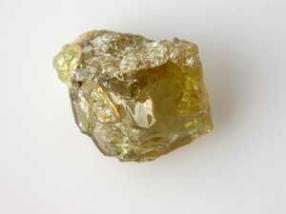 FOSSICKING IN THE
APPLE
ISLE
By Alan Altmann (Warrnambool Gem Club)
In February 2008 I headed off to Tasmania for a short holiday, planning to do some fossicking in between bushwalking and general
sight seeing.
As I intended to fossick at a number of locations, I decided to take my vehicle over on the Princess of Tasmania. This was more
costly ($340 return for myself plus the vehicle) than flying, but offered extra flexibility, particularly when it came to getting to some of the
fossicking areas. I chose to cross Bass Strait on a day trip, as I had found previous day trips on the 'Princess' to be quite pleasant
experiences, with some dolphins and other ships being spotted en-route.
I was one of many 'mainlanders' making the trip to Tasmania that day, February seems to be a popular time to visit Tasmania,
particularly for Queenslanders and New South Welshmen!
Left: The Penguin beach fossicking area with the town of Penguin in the background.
3 photos of tumble polished jasper pebbles
from Penguin beach. These stones took 5
days in the tumbler to complete the
tumbling process!
ZEEHAN
A short drive down the west coast brought
me to Zeehan, the home of Crocoite and
many other lovely minerals.
The Zeehan museum in the centre
of town is well worth a look, as it has a very
impressive display of minerals from both
the local area and overseas. It also has a great photographic record of mining in the area. (N.B. unfortunately, photography is not
allowed in the museum).
Opposite the museum, Richard Wolfe has a shop where he sells a wide range of crocoite specimens and many other local and
overseas minerals. Richard is a very experienced miner and mineral collector and a valuable source of information about the region. At
the time of writing, Richard was mining a beryl deposit, as well as Crocoite from the Adelaide mine.
At Richard's suggestion, I visited Michael and Eleanor Phelan (of 'Dundas Extended Minerals'), who live in the 'old town of
Dundas', which is shown on my road atlas, but no-longer physically exists. Upon realising that I was a member of a lapidary club, and
that I was looking for carving material for our club members, Michael very generously donated some 'serpentine & stichtite' carving
material to our club. This material can apparently be hand worked with files, smoothed with sanding paper to 400 grit size, and then
polished with car cutting compound. Due to its' fibrous nature, selection of pieces is important as it can readily split, and it should not
be exposed to oil in the cutting process as the oil will be absorbed by the serpentine.
In addition to the material Michael donated, I decided to purchase some of the better quality material he sells commercially.
Michael normally charges around $8/Kg for such material and at the time of writing was happy to deal with lapidaries or lapidary clubs.
If you are looking for nice carving material for your club, it may pay to contact Michael/Eleanor at P.O. Box 132, Zeehan, Tas., 7469 (or
phone 0408 578 973 or e-mail ephelan@tassie.net.au). Obviously you will save on freight costs if a club member is passing through
the area on holidays and can collect the material directly. The Zeehan Gem & Mineral Fair in November is a good excuse to be visiting
the area!
Far Left: Michael Phelan (at 'Dundas') beside
some of the Serpentine & Stichtite he had
been mining. When I took this photo Michael
had just arrived home from a hard days
mining, however, he still insisted on showing
me around and giving me some material for
our club. A very generous and helpful
individual!
Left: A close up photo of the serpentine
stichtite slab, showing the fibrous nature of the
material.
Far Left: Slabs of Serpentine and Stichtite
showing two of the shades of green.
Left: The green serpentine in the quarry is
obvious in this photo
Richard also mentioned a quarry where I
could collect serpentine myself. After some
searching, I found what I believe to be the
quarry Richard mentioned. The ground was
'green' and there was serpentine in abundance, but of highly variable quality. Much of it was prone to breaking up very easily, so you
have to choose what you collect with care. Look for solid 'nodules' of the material which occur amongst the more friable material. To
add to the 'fun', I passed a 1m long black snake as I drove into the quarry, and upon entering the quarry I discovered a large number of
commercial bee-hives set up in the middle of the quarry. Needless to say, I stayed well clear of the hives which were very active! The
quarry is some 16.8km south of the Rosebery Police station, on a winding hill section of the highway, so care needs to be taken when
accessing the quarry. If approaching from the south, the quarry is 5.2km north of the Dundas turnoff.
One further warning regarding the quarry! There is a small amount of white asbestos in some sections of the quarry. However,
the asbestos should not be a major problem as most of the quarry is 'clean' and I have been told by locals that the asbestos that exists
is in a form/situation where it is very difficult for it to become air borne. I am not expert on asbestos, so if you have any concerns, I
would suggest you just purchase some material from Richard; then you can be sure you will have no exposure to any asbestos!
On my second day in Zeehan, I drove to Trial Harbour. The trip involves some 23km of winding gravel road, which is in very good
condition for the first half of the journey, but corrugated and rougher closer to Trial Harbour. Trial Harbour itself was a pleasant
surprise, a quiet locality right on the beach, with both decrepit shacks and new modern homes being erected. The town is not
connected to the power grid and one of the first things that you notice is the number of solar panels and small wind generators
throughout the town. Combined with wood heating/cooking, the residents are largely self sufficient when it comes to their household
energy needs!
In Trial Harbour you can obtain information about the local area from Shirley Smith who runs a small 'history room/museum'
near the beach parking area. A basic 'mud-map' showing the general locations of the local mines is included in the information
brochure at the 'history room'.
Just before you reach Trial Harbour, you can turn off onto the 4WD road to Granville. This track is definitely 4WD only, and the
bridges over several of the creeks have been closed due to their poor condition. There are several old mines in the area and I walked
into the 'Federation Tin Mine', where much of the original structure remains intact. En-route I collected a large number of Tourmaline
schorl specimens from the tracks and adjacent areas. The crystals I found were small, though locals have collected some very
impressive specimens from the Trial Harbour area. I understand that nice quartz crystals have also been collected in the area, but local
knowledge is necessary!
L: The township of Trial Harbour showing
the solar panels and wind generators used
by the locals
R: The poor condition of the 'bridges' on the
4WD track limited road access north of Trial
Harbour
L: Tourmaline schorl is common in this area.
WEYMOUTH
On my way to Gladstone I decided to drop in and have a look at the Weymouth fossicking area. This locality is adjacent to the
town and easily accessible, and so has probably been extensively fossicked over the years. There are plenty of pebbles on the beach,
but while they are nicely rounded and plentiful, they are generally not of a quality suitable for tumbling. Much of the material was low
grade quartz/quartzite/shale and porous in nature. There was plenty of milky quartz and a greyish quartz, but I could not find much
worth putting in the tumbler.
I ended up only spending 2 to3 hours at this site, and would be unlikely to visit it again.
GLADSTONE
This area is an old tin mining area which is well known for its smoky quartz crystals. I had visited the area some 5 years prior,
with limited success, obtaining some smoky quartz, but only in the form of heavily water-worn pebbles.
Two photos : Left: Wet conditions at Cameron's Creek near Gladstone
Below left: Some of the smoky quartz from Cameron's creek.
The area had some 70mm of rain over the two days prior to my arrival, which was
apparently the first decent rain they had had in a long time. I started the day by walking
up and down Cameron Creek, which had a good flow but was not in flood. Two hours
yielded a few small pieces of smoky quartz, including some facet grade material, but no
significant crystals. It was raining lightly during this time but I decided to persist and
drove in the first track just east of Gladstone, as indicated on the fossicking map of the
area provided by the Tasmanian Department of Infrastructure, Energy & Resources.
Before the end of the track I parked and followed a series of pink ribbons/markers into
one of the mullock areas on the creek. The area is heavily eroded and has lots of
vegetation, so you must take care to ensure that you do not become lost or
disorientated. The use of a G.P.S would be worth considering if you have one.
As I reached the creek area the rain intensified and I spent the next four hours
digging in mud and water. Fortunately, it was not cold, just very wet! I removed a
significant amount of soil from the edges of the creek where it was apparent others had
been digging recently. However, all I got for my efforts was one low grade, water-worn,
Smokey quartz crystal plus a small piece of facet grade material.
As the rain was continuing, I decided to call it a day as conditions were poor for
fossicking and the weather forecast was for further heavy rain (which did continue for
the following two days). So I retreated down the coast for some 'slack time' at St.
Helens and Freycinet Peninsula, a lovely part of Tasmania!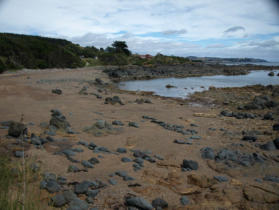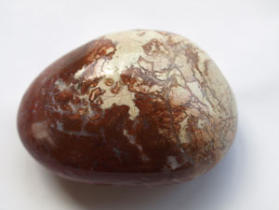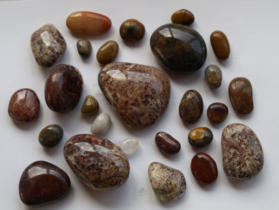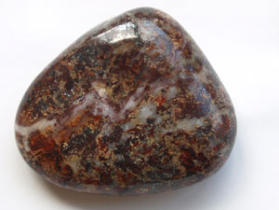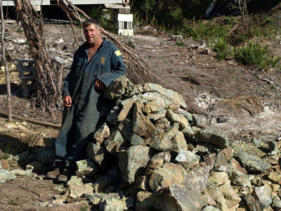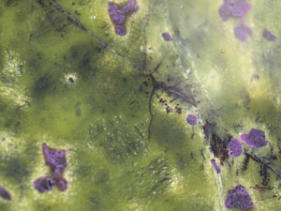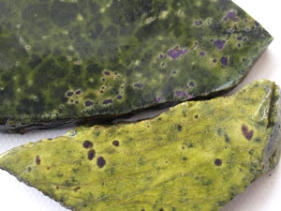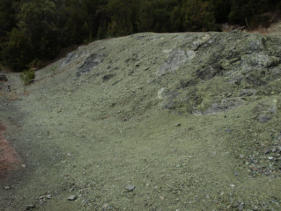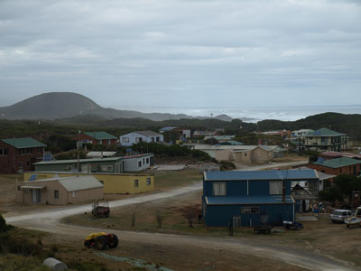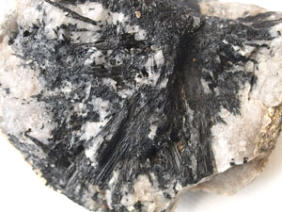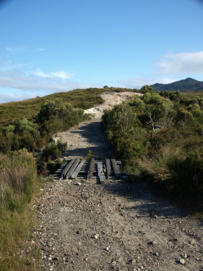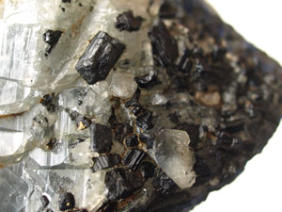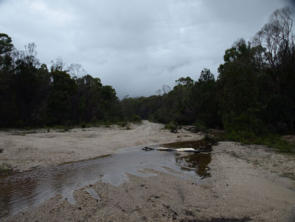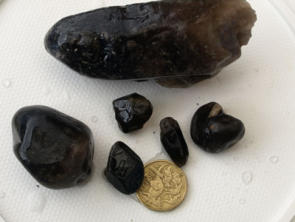 Mortlake
Peridot Jewellery
The photos below show faceted gems cut from Mount Shadwell peridot as well as jewellery using the Mount Shadwell peridot. The gems
belong to a member of the Warrnambool Gem Club, Brian Alexander. Brian cuts the larger gems on his VJ faceting machine, but send the
small gems overseas for cutting. Some of the jewellery has also been set by Brian, but most of the more complex peices have been
produced by a local silversmith, Bud Knackstedt.
L: Peridot gold ring
R: Peridot and gold pendant
L: Peridot and diamond ring in gold
R: Peridot and diamond gold ring
L to R: Amethyst and peridot gold ring; Peridot and
sapphire ring; Peridot and citrine gold ring
L to R: Peridot and sapphire/diamond gold ring;
Peridot and sapphire gold ring; Faceted Mortlake
peridot
L: Faceted Mortlake peridot
R: Faceted Mortlake 'olivine', orange!
FAY
PECK: AVOCA.
Was well known in the Western
District. Our club was fortunate to visit Fay's museum
and see her collection. Regrettably Fay is no longer
with us and her collection no longer exists. The page
below was copied from the Wimmera Tourist News
(date unknown).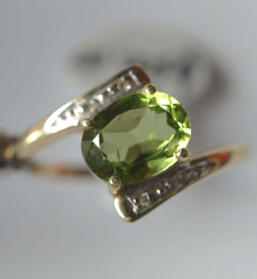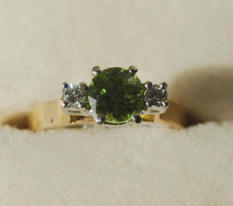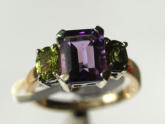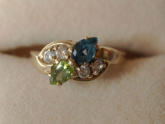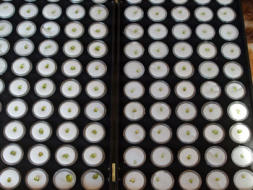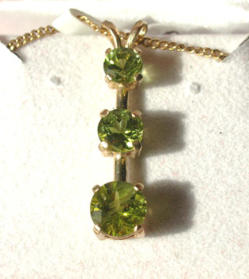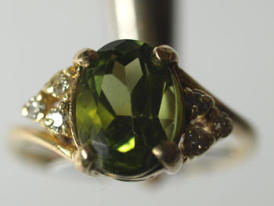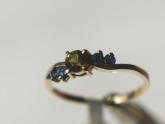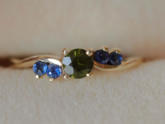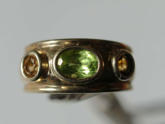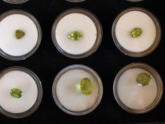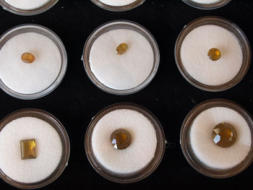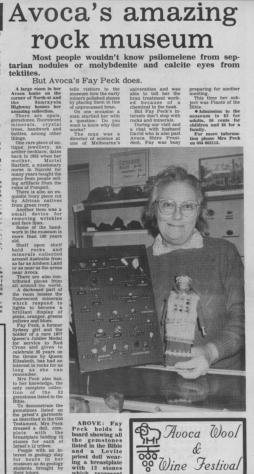 MOUNT

SHADWELL AEGIRINE-AUGITE
CRYSTALS
The Australian Journal of Mineralogy published an article on the Aegirine-augite crystals at Mt Shadwell in its June 2008 (Vol. 14, No. 1)
edition. The article had contributions from Bill Birch, Alan Wood, Allan White, Stuart Mills and Ross Freeman. We have been given
permission to include the article on this website following communications with Dr Bill Birch of Museum Victoria.
Aegirine-augite crystals in scoria from Mt Shadwell and Mt Anakie, Victoria, Australia.
Contributors

:
William D. Birch Geoscience Section, Museum Victoria, GPO Box 666, Melbourne, Victoria, 3001, Australia
Alan Wood 30 Boorook Street, Mortlake, Victoria, 3772, Australia
Allan J. R. White 51 Cox Street, Port Fairy, Victoria, 3284, Australia
Stuart J. Mills Department of Earth and Ocean Sciences, University of British Columbia, Vancouver, BC, Canada, V6T 1Z4.
Ross Freeman Sietronics Pty Ltd, PO Box 3066, Belconnen, ACT 2616, Australia
Abstract
Free-standing aegirine-augite crystals occur in basaltic scoria cones representing the volcanic eruption points of Mt Shadwell and Mt
Anakie, on the Cainozoic volcanic plains of Western Victoria, Australia. The crystals are found encrusting white quartz xenoliths in the
scoria. They are pale yellow to orange, prismatic in habit and up to 1 cm long. Microprobe analyses show a range in compositions, but all
plot within the field of Ca−Na pyroxenes. Optical properties and unit-cell data for crystals from Mt Shadwell are presented. Residual volcanic
glass found encrusting the quartz and aegirine-augite crystals at Mt Shadwell has compositions in the quartz trachyte − peralkaline rhyolite
range, suggesting extreme fractionation has occurred on a small scale as the quartz reacted with the surrounding basaltic scoria melt after
eruption had taken place.
Introduction
Prominent basaltic scoria cones are a characteristic landscape feature on the Cainozoic volcanic plains of the Western District of Victoria.
As a group, they generally represent the youngest phase of eruption in any volcanic episode. Many of the scoria volcanoes are important
sites for megacrysts and mantle and crustal xenoliths which have enabled both magma generation and crustal structure beneath the region
to be modelled. The ready availability of megacrysts and xenoliths in a number of quarries on scoria cones has, up until recently,
overshadowed the presence of a suite of high-temperature minerals which have crystallised in the scoria post eruption. At two sites in
particular, Mt Shadwell and Mt Anakie, mineral collectors have been obtaining a range of well-crystallised, mostly microscopic species (e.g.
pseudobrookite, potassian nepheline) which so far have not been studied in detail.
Amongst the most interesting and eye-catching of the discoveries are pale yellow to orange, prismatic crystals encrusting fragments of
white reef quartz enclosed in scoria. These have been collected from both Mt Shadwell and Mt Anakie, with specimens from the two sites
being so similar in appearance as to be almost indistinguishable. Interest in the crystals first arose during an excursion to the Mt Shadwell
quarry by participants in the Fourth International Mineralogy and Museums Conference held in Melbourne in December 2000. One of the
authors (AW) handed a specimen to Professor Jose Coutinho, from Brazil, who was unable to provide a precise identification. Subsequent
examination of more material by two authors (AJRW and RF) led to a tentative identification of esseneite, based on X-ray diffraction and
optical examination. The same provisional identification was made for similar crystals collected at Mt Anakie by Judy Rowe in 2002.
However, microprobe analysis has now identified the crystals from both localities as aegirine-augite but with slightly different compositions.
This paper provides descriptions of the aegirine-augite crystals and presents microprobe and optical data supporting the identification.
Additional data on the composition of the Mt Shadwell scoria and of residual volcanic glass associated with the crystals enable late-stage
chemical trends to be defined.
Geological setting
The two occurrences are some 135 km apart, with Mt Shadwell situated 2 km north of Mortlake and Mt Anakie about 30 km north of
Geelong (Figure 1). Mt Shadwell is the highest (135 m relief) of a group of scoria cones that overlie a small tuff deposit and are surrounded
by lava flows. As revealed in the large operating quarry (Figure 2), the scoria is generally coarse, both red and black, and contains abundant
volcanic 'bombs' containing ultramafic xenoliths, as well as clinopyroxene and anorthoclase megacrysts (Wass and Irvine, 1976;
Rosengren, 1994).
Mt Anakie is actually a complex of three composite scoria cones and a maar which are aligned southeast−northwest over a distance of
5 km. The cones are a prominent feature on the skyline, with the northern cone being 170 m above the surrounding plain. They are better
known as The Anakies, with the eastern cone referred to as 'Eastern Hill'. Substantial quarries operate on the eastern and central cones
(Figure 3) and have yielded a range of xenoliths and megacrysts (Wass and Irvine, 1976; Rosengren, 1994).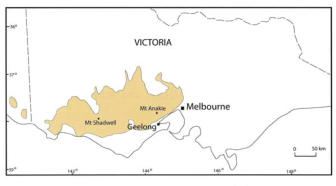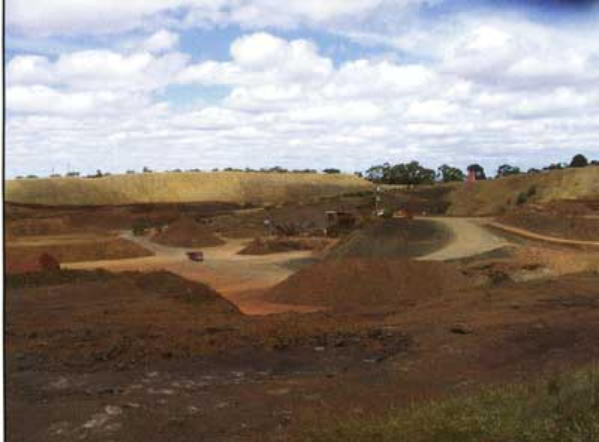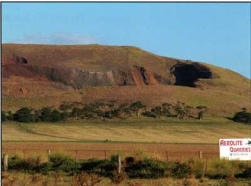 L above : Figure 1: Map showing the locations
of Mt Anakie and Mt Shadwell on the Western
District Volcanic Plain. The (simplified) extent
of the lava flows is indicated by the shading.
R: Figure 3: Mt Anakie (Eastern Hill) scoria
quarry. Photo: Judy Rowe.
L: Figure 2: Mt Shadwell scoria quarry,
February 2008. Photo: B. Birch.
Occurrence, Appearance and Optical Properties
At Mt Shadwell, encrustations and crystals of aegirineaugite up to 1 cm long occur at or near the margins of rounded white xenoliths up to 10 cm
across enclosed within scoria (Figure 4). The
xenoliths consist predominantly of recrystallised quartz with small amounts of tridymite and
cristobalite. They are considered to be pyrometamorphosed quartz pieces carried up in the magma from the Palaeozoic basement rocks. Many of
the inclusions have been fragmented, rounded and etched, suggesting they have undergone resorption in the magma. This resorption may have
continued after eruption, as in many samples there are gaps between the inclusion and the surrounding scoria, creating space in which aegirine-
augite crystals have been free to grow. The aegirine-augite crystals have grown directly on the quartz and on the surfaces of the surrounding cavity
(Figure 5). They may be accompanied by magnetite, late-forming calcite balls and tiny aragonite needles. In some cavities the quartz fragments are
partially coated by transparent, pale yellowish brown glass containing bubbles (Figure 6).
The Anakies occurrence is very similar (Figures 7, 8), although the quartz xenoliths and the aegirine-augite crystals are not as large as those from
Mt Shadwell.
L: Figure 4: Quartz inclusion in Mt Shadwell scoria, showing crust of orange-yellow aegirine-augite crystals; inclusion is 3 cm across. Photo:
Lucinda Gibson. Specimen: Museum Victoria, M50822.
R: Figure 5: Aegirine-augite crystals on quartz inclusion, Mt Shadwell. Field of view is 6 mm by 4 mm. Photo: Ben Heally/Bill Birch. Specimen:
Museum Victoria,M50828
L: Figure 6: Brown glass on quartz inclusion in scoria from Mt
Shadwell. Field of view is 7 mm across. Photo: Lucinda
Gibson/Bill Birch. Specimen: Museum Victoria, M50821
R: Figure 7: Quartz inclusion with aegirine-augite crystals in
scoria from Mt Anakie. Inclusion is 2 cm across. Photo: John
Haupt. Specimen: Museum Victoria, M47985.
L: Figure 8: Aegirine-augite crystals on quartz from Mt Anakie.
Field of view is 7 mm across. Photo: Ben Heally/Bill Birch.
Specimen: Museum Victoria, M47985
R: Figure 9: Aegirine-augite crystals on quartz from Mt Anakie.
Photo: Ben Heally/Bill Birch. Specimen: Museum Victoria,
M47985
In hand specimen and as seen under the microscope, the
aegirine-augite crystals from both localities are prismatic and
transparent, varying from pale yellow through orange−yellow to
brownish yellow, rarely to dark greenish. Colour zonation is
observable in some crystals, with colourless to pale yellow
cores overgrown by brighter yellow rims. In thin section, the
aegirine-augite crystals show a strong brownish yellow colour,
which tends to mask the high birefringence (Figure 9).
Pleochroism varies from lemon yellow (α and γ) to very pale
yellow (β). Refractive indices determined for Mt Shadwell
crystals gave α=1.707, γ = 1.735, with orientation
Y=b, Z∧c = 30° and 2Vmeas.~ 70°, and with strong inclined
dispersion r<v.
X-ray diffraction
Crystals from both localities were examined by routine X-ray powder diffraction at Museum Victoria using a Philips X'Pert diffractometer for an initial
identification. The resulting patterns were characteristic of clinopyroxenes in general and no precise identification could be made from them without
chemical data. Two separate crystal concentrates from Mt Shadwell were run on a Bruker D4 X-ray diffractometer at Sietronics Pty Ltd in Canberra,
and the d-spacings of the peaks with I/Io greater than 40 were used to calculate approximate unit cell dimensions of a = 9.69, b = 8.83 and
c = 5.38 Å. More accurate cell parameters for aegirine-augite from The Anakies were obtained from determination of the crystal structure (Mills and
Groat, 2008) (see accompanying paper).
Chemical composition
Microprobe analyses were undertaken on representative crystals from both localities, using a Cameca SX50 instrument under operating conditions
of 15 kV and 25 nÅ. The results (see Table 1) show a range of Na-rich, low-Ti, Al-absent compositions. Total iron was partitioned into Fe2O3 and
FeO using the method of Droop (1987) and employing an online spreadsheet established by Robert Sturm (Institute of Physics and Biophysics,
Salzburg, Austria). Formula calculation shows that all analyses can be expressed in terms of the aegirine (NaFe3+) endmember and a
Ca−Mg−Fe2+ (quad) component. In the Q−J diagram, all analyses plot in the Na−Ca compositional field for pyroxenes (Figure 10). The Anakies
crystals as a group contain more of the aegirine endmember than those fromMt Shadwell, but further sampling and analyses may close the
apparent gap. The term aegirine-augite is applicable to all analyses shown, under the pyroxene nomenclature scheme of Morimoto et al. (1988).
The respective formulae for the average composition from The Anakies and Mt Shadwell, based on all available analytical data, are:
(Ca0.57,Na0.40)Σ0.97(Mg0.57,Fe3+0.40,Fe2+0.05,Mn0.01,Ti0.01)Σ1.04(Si1.97,Fe3+0.03)Σ2.00O6
(Ca0.76,Na0.24)Σ1.00(Mg0.71,Fe3+0.26,Fe2+0.02,Mn0.01,Ti0.01)Σ1.01(Si1.97,Fe3+0.03)Σ2.00O6
Left: Figure 12: Total alkali versus silica plot for the Mt Shadwell scoria and residual glass. Arrow shows fractionation extent and direction resulting
from reaction between the scoria melt with a basanite composition and quartz xenoliths, accompanied by aegirine-augite crystallisation.
Formation
Textural relationships suggest that the aegirine-augite crystals at both localities have crystallised under hightemperature conditions during post-
eruptive cooling within the scoria mound. Magmatic resorption of the quartz xenoliths, around which the crystals have nucleated, may have
commenced prior to eruption, but further reaction, possibly enhanced by the presence of volcanic gases, appears to have occurred following
eruption. This created the space for the crystals to grow between the xenoliths and the enclosing scoria.
Evidence for continuing reaction may be found from the composition of the glass occurring with aegirine-augite crystals on some quartz fragments
from Mt Shadwell. It is likely that this glass represents the most fractionated remnant of the original magma, following reaction of the scoria melt
with the quartz, accompanied by crystallisation of the aegirine-augite. Microprobe analyses (Table 2) show the glass to be rich in SiO2 (67−73 wt
%), K2O and Na2O, with a CIPW normative content made up of roughly equal proportions of quartz, orthoclase and aegirine ('acmite')
(Figure 11). Mt Shadwell scoria is alkaline in composition (Na2O +
K2O of 5−6 wt %) and is classified as basanite (Irving, 1971), with
normative nepheline contents of 9−10 wt % (see Table 3). The
scoria melt composition is therefore markedly different to that of the
glass in contact with the quartz xenoliths, showing that very strong
fractionation effects have taken place over short distances.
Elementby- element comparison between the two indicate that the
combination of reaction with the quartz and crystallisation of the
aegirine-augite has led to strong enrichment in Si and K and strong
depletion in Al, Mg and Ca in the residual melt fraction. In effect, a
basanite melt has been changed to one which could potentially
crystallise as a quartz−orthoclase−aegirine assemblage, such as
may occur in a quartz trachyte or peralkaline rhyolite (see Figure
12).
Clinopyroxene crystals of similar appearance to the Victorian
aegirine-augites occur in the scoria cones of the Eifel region in
Germany (Hentschel, 1987), but these examples have not been
studied in detail (Uwe Kolitsch, personal communication), so that
comparisons are not possible at this stage.
References
Droop, G. T. R., 1987: A general equation for estimating Fe3+
concentrations in ferromagnesian silicates and oxides from
microprobe analyses, using stoichiometric criteria.
Mineralogical Magazine, 51, 431−435.
Hentschel, G., 1987: Die Mineralien der Eifelvulkane. Second, extended edition, Chr. Weise Verlag, Munich, Germany, 177 pp. (in German).
Irving, A. J., 1971: Geochemical and high pressure experimental studies of xenoliths, megacrysts and basalts from southeastern Australia. PhD
thesis (unpublished), Australian National University, Canberra.
Mills, S. J. and Groat, L. A., 2008: The crystal structure of yellow aegirine-augite from Mount Anakie, Victoria. Australian Journal of Mineralogy,
14(1), 43-45.
Morimoto, N., 1988: Nomenclature of Pyroxenes. Canadian Mineralogist, 27, 143−156.
Rosengren, N., 1994: Eruption points of the Newer Volcanics province of Victoria: an inventory and evaluation of scientific significance. National
Trust of Australia (Victoria) and the Geological Society of Australia (Victoria Division), 387 pp.
Wass, S. Y. and Irvine, A. J., 1976: XENMEG: a catalogue of xenoliths and megacrysts in volcanic rocks of eastern Australia. The Australian
Museum, Sydney.