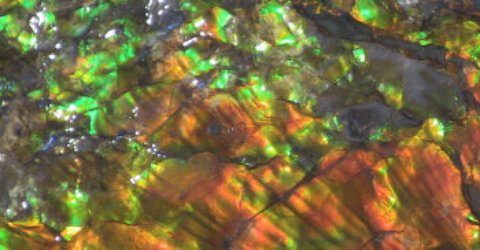 28/2/21: FIELD TRIP
Our club was invited to join the Horsham
Gem Club for a field trip starting near Coleraine at the 'Giant Rock
Reserve' and then travelling to a farm and two quarries. The field
officer from Horsham, Bill Gardner, also organised a trip last year
which several of our members attended.
Photos below. Top row: L: walking towards Giant Rock reserve. R:
climbing up the approach to the volcanic plug. Second row: view
from top of plug.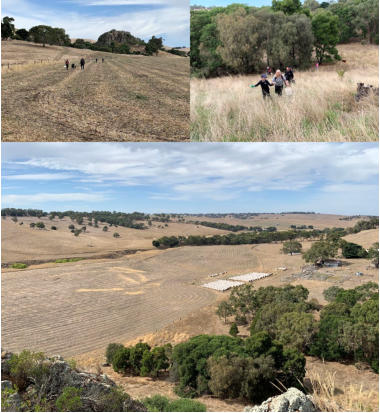 Below: l
unchtime in Coleraine, nice locality and we had a
good time catching up with Horsham members. It was
great to see a good turn up of members from both clubs.
JANUARY FEBRUARY MARCH APRIL MAY JUNE JULY AUGUST
SEPTEMBER OCTOBER NOVEMBER DECEMBER
2022
JAN FEB MAR
APR
MAY JUN JUL AUG
SEP
OCT NOV DEC
2023 J F M A M J J A S O N D
18/5/21
Alan and Helen travelled to Hamilton to run a
'show & tell' for a Primary School, grade 4 class studying
geology. The students were enthusiastic and asked many
questions with the '1 hour' session ending up after 2
hours.
19/5/21
Several club members travelled to 'Crystal
Universe' in Port Melbourne. They reported that they had
a great time and made many purchases of 'rough' for their
lapidary work.
22/6/21
The two photos below are of a broach made
by club member Helen. The central stone is Ametrine,
surrounded by Spinels and Sapphires. All hand made in
Palladium Silver.
2022 CLUB ACTIVITIES
Warrnambool Lapidary
Club Excursion 6 Feb
2022
Chasing up on a
vague report of "a band
of brown phosphatic
nodules in the Clifton
formation", an
expedition was mounted
to Clifton Beach near
Port Cambell. (photo
left)
The weather was
superb, sunshine, little
wind, and not too hot,
which was good
considering the climb
down to the beach.
After trekking along the
beach, we fossicked for several hours in debris which had fallen from
the cliff.
The only thing that looked vaguely like the elusive nodules were
small brownish-yellow nodules, however sectioning these later
showed them to be mainly ironstone peppered with limestone, (photo
below left)
Some other white nodules from the other end of the beach showed a
bit more promise polishing up to a light yellow. (photo below)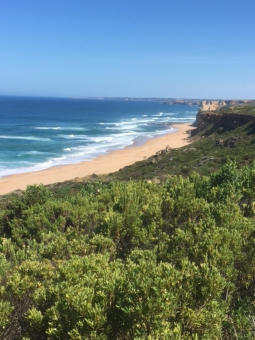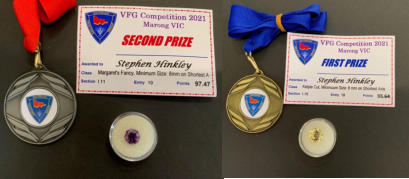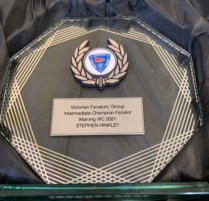 18/6/22 Club members conducted
a 'Bunnnings BBQ' as a fund
raiser for our club. Thanks to all
those members who attended and
helped with this effort. Such days
help with keeping the club in a
sound financal position.
Detecting
excursion to Moyston by Warrnambool
and Horsham Lapidary Clubs
On Sunday 4
th
of September, 2022, some 18 people gathered at
Moyston for a detecting excursion. Periodically overcast, but no rain
which made a change. Several people stayed overnight in the Recreation
Reserve, the remainder travelling so as to arrive at 10 am for a coffee at
the local café. We then scattered in various directions and met again for
lunch at 1 pm at the Rec Reserve in a shed where we could warm up
around a 44-gallon drum fire-place. We again went off this time in a
group to the southern end of the gold field for some more detecting
finishing with afternoon tea at 3, departing about 4. While no gold was
found (as usual) there was the typical assortment of stuff which makes
this an interesting pastime. All in all, a very good social outing and a
chance to catch with people we hadn't seen for a while.
2023

Club activities:
This year started off with our club's Gem
Show, which was held in O.L.H.C. Primary School Hall, 2 Selby Rd,
east Warrnambool. See club shows _ for further details.
May
:
Two of our club members were able to attend the Fyansford
Quarry fossicking trip on Sunday, 30/4/23.

The email I received after their
trip says it all.
"
Lyn and I had an absolute ball at Batesford
Quarry on Sunday. We were the last to leave, we were busy
scratching about in the sand and gravel having so much fun.
We both found some sharks teeth and loads and loads of sea
urchin spines. I even found a fossilised crab claw too. The
Geelong club said they'd be doing another field trip there
around Sept/Oct. Lyn and I will be going again. I hope a few
more Warrnie members take up their offer to join them.
They're a friendly bunch."
Maureen
See the photos below:
clockwise from top left: Quarry view,
some finds, Sharks teeth, Lyn.
Thanks goes to the Geelong club for
organising the outing
Some of our members also attended the

Horsham Gem Show
on the 6
th
& 7
th
of May, which was quite impressive and had a
good crowd through while we were there. The club always has
a great display of high quality display cases for visitors to see
and they cater well for the children going through the show. A
pleasant day out for our members.
Several of our club members spent significant time
undertaking maintenance on club machinery during May,
replacing worn bearings plus some pulleys and pulley belts
and a diamond wheel. It resulted in some quieter grinding
units and stopped the sanding belts slipping off the expanding
drums. Thanks to Steve H., Owen H. and Alan A. for their
efforts.
The number of members using the club rooms has been
pleasing of late. Members are cutting cabochons and some
have tried their hand at carving. Hopefully we will have some
good display cases at our next show.
Steve H. is faceting some nice gems. This lemon quartz and
an oval CZ are recent examples.
Alan M. has been learning to facet under the tutorage of Steve
H. and John H. He has faceted several nice gems to date.The
photom bekiw keft is an eight sided brilliant topaz.
The pendant and cabachon shown below
are 'crazy lace agate' and have been cut by
Michael T. at the club.