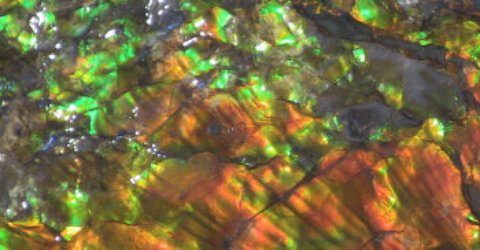 JANUARY FEBRUARY MARCH APRIL MAY JUNE JULY AUGUST
SEPTEMBER OCTOBER NOVEMBER DECEMBER
2020
JAN
FEB
MAR
APR MAY JUN JUL AUG
SEP
OCT NOV
DEC
JANUARY
The club restarted on the 19th of January. Work has
started on a storage unit (thanks to Keith for his efforts on this) and
the new silversmithing equipment has arrived and is being
unpacked.
FEBRUARY
The club is up and running again. One of our
members recently purchased a beautiful Lapis specimen (3 - 4 kg
range), beautifully polished and a great cabinet piece. See the photo
below!. Good choice Larry!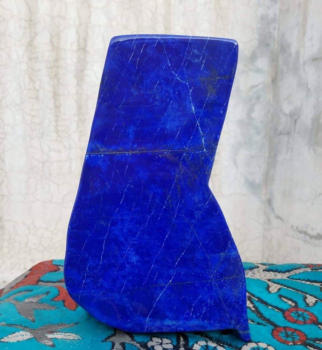 MARCH
Congratulations
to Steven Hinkley on the great results he achieved
in the AFG faceting competition at the 2019 Victorian Gemkhana! Steve received
first place in the Novice section for a beautifully cut CZ. See the LH photo below.
He also did well on a second stone RH photo. This is a great result for his first
entry into such a competition!
Congratulations

must also go to

John Honan

for his excellent results in the
competition and his valuable mentoring of club members learning to facet!
John competed in the open section of the competition (which was a level 3 comp.)
He submitted three stones:
1.
A gamma brilliant cut
94.78 pts
3
rd
position
Bronze Medallion
2.
A Step cut
95.2 pts
1
st
position
Gold Medallion
3.
A Round brilliant cut
83.92 pts
1
st
position
Gold
Medallion
Saturday 30th March:
The club held a BBQ at the local Bunnings
store in Warrnambool. This is a regular (and gratefully appreciated)
fund raiser for our club and many others locally. The day was the
coldest so far this year with wind, rain and hail! However, after a quiet
start the club members were busy throughout the rest of the day and
ended up raising significant fund for the club. Thanks must go to all
those members who spent time organising and running the BBQ.
Well done!
APRIL
On Tuesday, 2
nd
of April, club President Helen and Vice-President Alan,
visited Nullawarre P.S. to do a 'show & tell' about gems and minerals for some 35
year 3 to 6 students. We had an enjoyable hour (plus) explaining and showing a
wide range of minerals and gemstones, including agates, petrified wood,
Australites and peridot from the Western District. Helen showed some of her
silver-work/jewellery with gems she had cut set in rings, pendants etc. The
feedback from both students and staff was extremely positive. It is good to
contribute to the knowledge and interests of local students.
6th
The silversmithing course conducted by our club president
Helen, commenced at the clubrooms today. A very busy day with the
participants all very occupied with their projects.
Rushworth Field trip 14
th
& 15
th
of April
:
Seven Warrnambool Gem
Club members travelled up to
Rushworth on the friday to join up with members of the Goulburn
Valley Gem Club plus members from other clubs. Most of us stayed at
the 'Greens bush campground' in Whroo, south of Rushworth. Only
basic facilities (a pit toilet) but clean, quiet and good company. On the
Saturday morning we travelled to a nearby locality where some dug
for quartz crystals while other searched for gold using metal
detectors. Quite a few quartz crystals of varying sizes were found.
.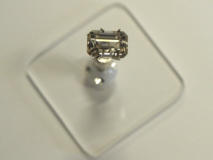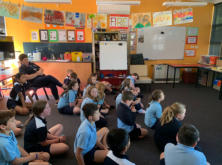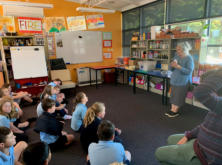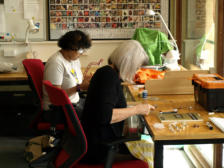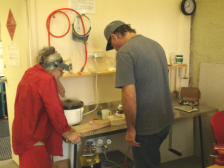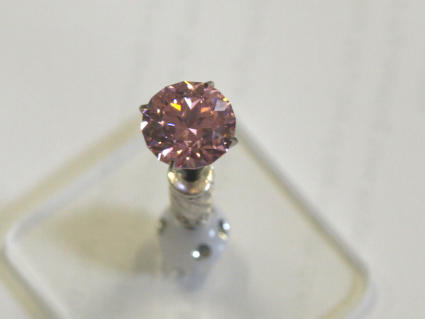 Above L: Helen supervising Steve using the torch
R: Kajol and
Therese working on their silversmithing.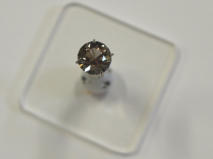 Round brilliant cut Quartz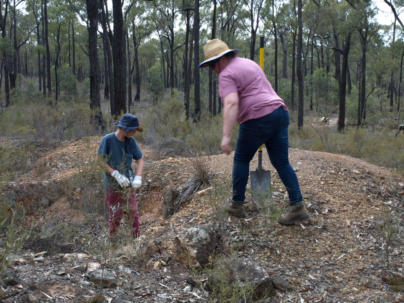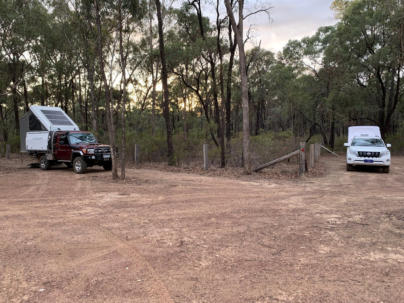 Photos above: Top: Greens campground
Bottom:
Darcey & Lana digging for crystals.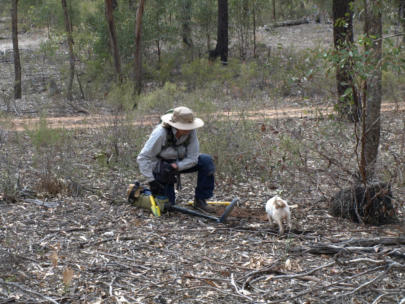 Above: Top: kathleen searching for that gold nuggett.
Bottom: Jenni and Larry digging for crystals.
Our members had a good time and received great assistance and
advice from the GV club members. In the evening we went into
Rushworth with GV members for tea at the local pub. I
t was a
great evening and George has to be thanked for the considerable
efforts he put into organising the weekend!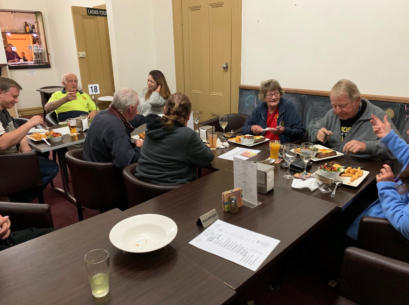 On the Sunday we travelled to Mawson's Lake Cooper quarry.
This is a massive quarry and we are lucky to have access to it.
Once again, thanks must go to George and the G.V. club, as
well as 'Mawsons' for arranging/allowing such trips.
After
going over the safety rules we travelled to the bottom of the
quarry to begin our search for gem material. Due to the dry
weather much of the rock was covered by fine dust and
needed some water on it to show the colours hidden by the
dust. Our members were shown what to look for and began
the find material with the help of the more experienced G.V.
members. Special thanks to

Santa Simeon

who found some
lovely material and shared it around with a large group of
other fossickers. After a successful morning's fossicking we
retired for lunch.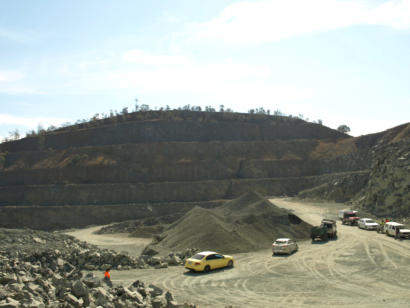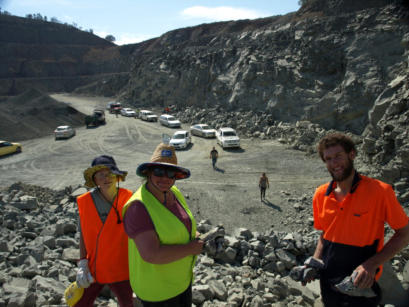 Photos above: Top Mawsons quarry, Middle Darcy, Lana,
Simeon Bottom: Safety briefing.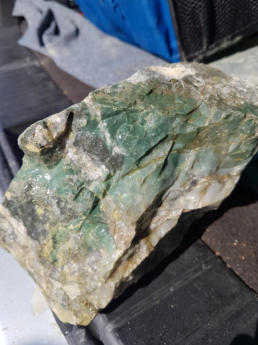 A good find by Lana
and Darcey.

Above:
L: some jasper
R: some 'massive pyrites'
MAY:
Nine club members travelled to the Palmer
Rockerama in S.A., which was held from the 3
rd
to the 5
th
of
May. Some camped on site, others stayed in Mannum. It turned
out to be a great weekend with the weather varying from cool
and windy to warm and sunny. The range of gem material
available was excellent, with some great Australian gem rough
available as well as imported material. Our club members got a
good range of cabbing material including nice cut agate
nodules from 'Agate Creek', some lovely 'crazy lace agate from
Mexico', white/green/black Cowell jade, W.A. tiger-eye, opalized
and petrified wood, mookaite and a variety of rarer gem
materials. The two photos below show L: Kay & Helen
purchasing some agates
R: A sliced Vivianite nodule
displaying the beauty within the plain exterior!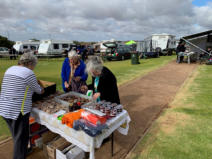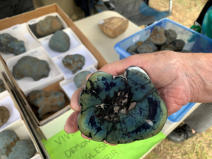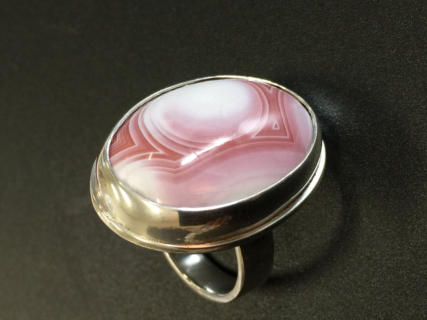 Above: Club member Therese, who has been undertaking the
silversimithing course at the club has just completed her first
ring. She has set one of her cabachons (a piece of 'porcelain
agate' from Agate creek in Qld) in a silver ring. A great piece of
jewellery!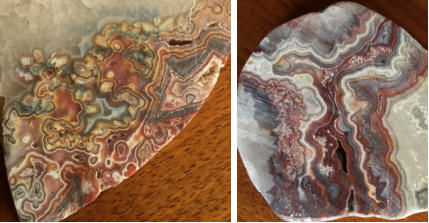 LTwo peices of attractive Mexican Crazy Lace agate purchased
by Helen.
June
:
Below: The photos below show some recent
silver work Helen has completed. Top L: Chrysoprase
in gold, Top R: Ceylon Sapphire in 18ct gold, Bottom L:
Pale Aquamarine in silver, Bottom R: Malachite in fine
silver.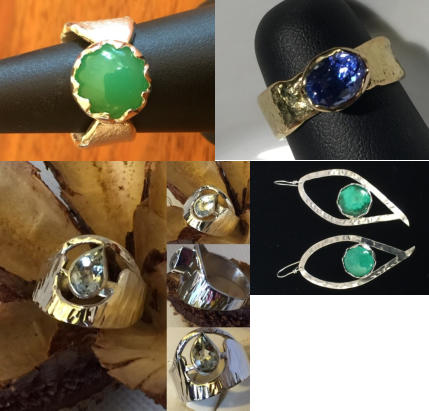 July
:
Thanks to Keith F. and
John H.
for
constructing the new
storage
unit
(
Photo at
right)
located on the
right as you enter the
club rooms
. The unit is
storing tables, the
vacuum cleaner & other
items. The unit was
painted by Alan A

.
PHOTOS BELOW: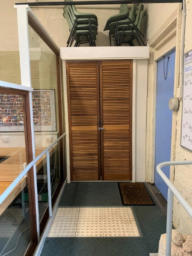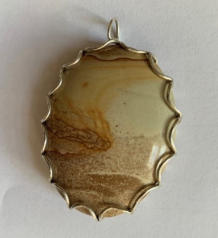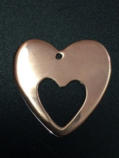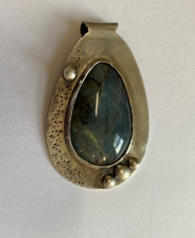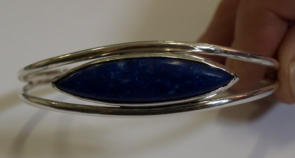 Top row: Two cabachon pendants by Stephen H.
Second row: Left : A heart pendant in copper by Gary.
Right:
This bracelet featuring a lapis lazuli cabochon is Steve's first effort
at producing a bracelet.
August
WICKLIFFE FIELD TRIP:
On Sunday 25th of August,
Warrnambool Club members (Alan A., John C.) joined the Horsham Club field
trip to Wickliffe. Members from Ballarat were also present amongst the group
that met up at Wickliffe at 10 a.m.
On the drive up from Warrnambool I experienced several heavy showers and
windy conditions. However, as I got past Mortlake conditions improved with
more sun and less rain. When fossicking we only had a few short showers
during the five hours we were near Wickliffe.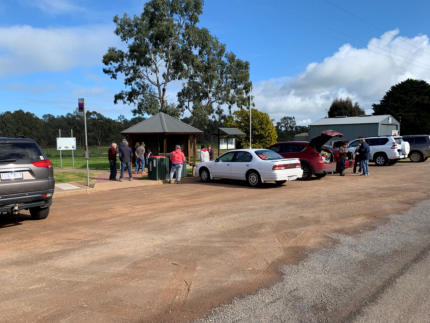 Above: some of the group at Wickliffe prior to
heading out for some fossicking.
Bill Gardner of the Horsham club was the trip organiser and did
an excellent job. We started off in Wickliffe where we got a
look at some examples of the 'greenstone' (which was more
'grey' than green). The 'rough uncut material' did not look all
that impressive, but the pieces which had been cut/ground into
two 'cutting implements' as shown in the two photos below
were impressive. The sharpness of the edges showed how the
'greenstone' would have been of great value to the local
indigenous population. The material also took a good polish.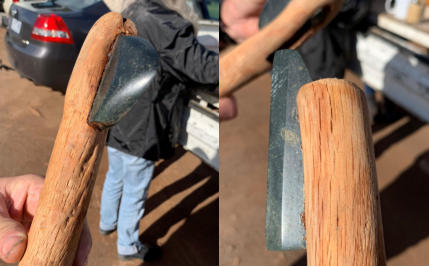 Bill had organised access to a local farm which we
headed to for our fossicking. The first site was in a very
green, lush field with some rock/jasper outcrops. We had
to walk about 200m and then were able to pick up
material off the ground and break pieces from the
outcrops. Both Jasper and greenstone were present. After
we all had as much as we required, we then had a look
along the edge of the road where some banded chert was
collected.
Below L: Marian at one of the Jasper outcrops
Below R: John in foreground amongst the Jasper
and 'Greenstone' with other fossickers in the background
at another outcrop

After lunch at the 'old shearing sheds' on the farm we
drove over to near another greenstone locality. After
walking a few hundred metres we came upon the area
which had a number of small 'quarries'/pits, measuring
from 4m to 10m diameter. These 'quarries' were developed
by indigenous locals as sources of greenstone for axe heads
and spear heads. It is believed that material from this
locality was traded all around Australia by indigenous
people
Below: Marion at one of the greenstone pits with a large
piece of greenstone in the centre. This rock showed signs
of having had material chipped from it over a long period
of time.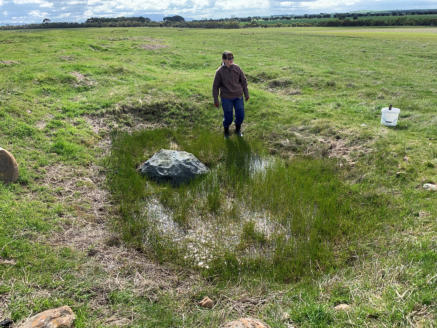 Overall, it turned out to be a great day's fossicking and
we greatly appreciated the invitation of the Horsham
club for us to attend their field trip!
September:
On Thursday 19/9/2019, Club President & Vice-
President,
Helen & Alan
, visited
the
Koroit Primary
School
for a 'show & tell' in the STEM facility at the
school. We arrived at 11 a.m., conducting two one-hour
sessions with combined grade 3/4 classes. The students
were interested and several had the beginnings of
reasonable gem collections. A busy two hours but most
enjoyable. This is the second time the club has visited
the Koroit P.S. for these sessions.
Over the last month we have had members undertaking both
maintenance and upgrades at our clubrooms.

John H. and Alan
Altmann
have worked on one of the sanding units. Meanwhile,
Alan A., Keith Fisher. and Larry Jeal
have upgraded the water
supply serving our grinders and sanders in the club workroom.
This project involved a few solid days of work. It included
modifying the machine guards, relocation & replacement of the
hoses serving the units, removal of the old plastic taps and
installation of new brass ball valves. The new system makes the
use of the taps much easier for our 'mature members'.
The cost of the new taps and plumbing were partly met by a
grant from the Warrnambool City Council, which also assisted in
the purchase of two
new sintered 8", 80 grit,
diamond wheels. These
two wheels have been
installed alongside the
two existing sintered
wheels.
New LED globes
have been installed in
the spot-lights above
the grinders/sanders
and should illuminate
your work far better.
The photo left shows
Larry & Keith installing
one of the new taps in
the workshop.
The club was represented by
Helen & Alan
at
the Terang
Arts/Craft festival on Friday, the 27
th
of September
, as part
of our club promotion efforts. We had a large table near the
entry to the main hall, which held the work of many local artists
(photo to left).
Despite cool
weather, the
attendance at
the festival
was excellent.
We spoke to
many locals,
both children
and adults
who were
interested in
gems and minerals. We had a display of Australian gemstones
and Helen had her impressive collection of gold and silver
jewellery she has made, incorporating gems she has cut herself.
We also had a new member sign up on the spot, which was
excellent.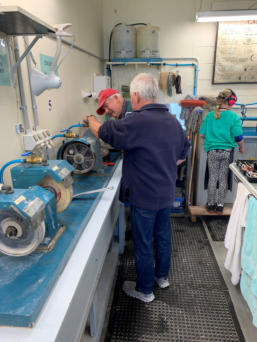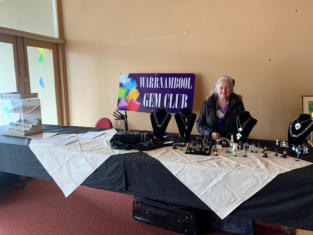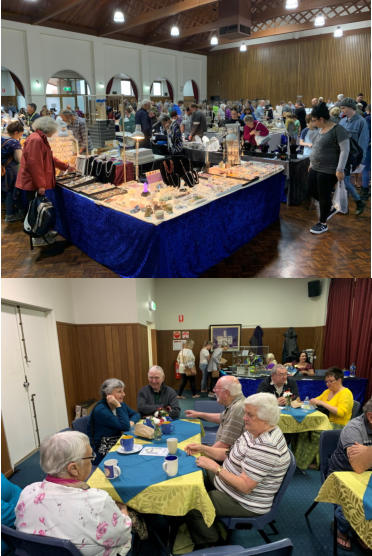 On Saturday 2/11/19
nine club members were
at the Geelong Gem Show. Due to the central
location of the show this year, some members
travelled by train rather than driving.
The first photo (top) shows a general view of part
of the show while the second photo (below) shows
(L-R) Kay, Val &Ted (ex-members who now live in
Geelong) and John & Gillian having lunch.
Members had a good day out, making some
purchases and meeting other lapidaries.
·
On Thursday, 14/11/19, Alan, Helen and
Christine travelled to the Mt Gambier
Gem Club rooms for an opal carving
workshop. This was in response to
Helen receiving an invitation, a few
days prior. It was wet and windy on the
way over but we arrived in plenty of
time for the 10 a.m. start. There was a
good group there, including many Mt
Gambier and Horsham club members.
It was great to catch up with members
of both clubs and see the level of
interest in the carving.
We were provided with material (opal
potch mainly) and a suggestion as to
what
we could carve with the particular stone we
were given. At the end of the
day we had all
made reasonable progress with our
'creations', picking up
several handy hints
along the way. It is always good to see
someone with lots
of experience at work.
The photos below show the Mt Gambier club
rooms
and participants working or
'chatting' about carving, opals etc. Overall, a
great day out!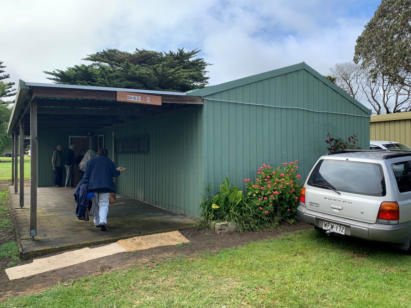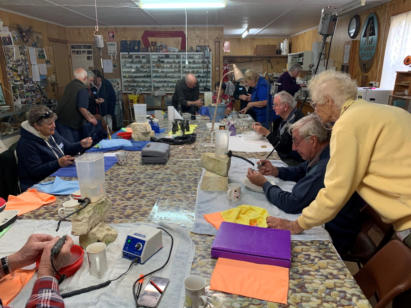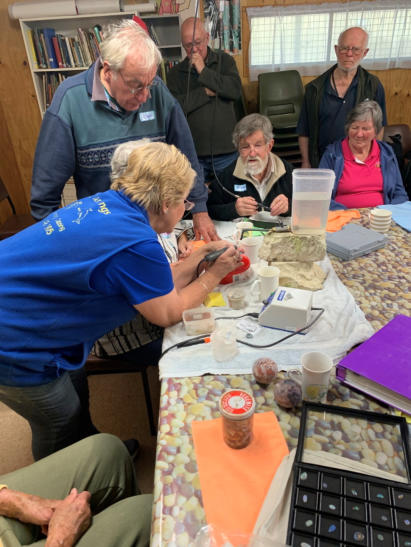 December
:
Club members had near perfect
weather for the club's end of year breakup at the
Community gardens. Thanks once again to Keith for getting
us access to the facility. After a lot of chatting, members got
started on a nice range of salads and meat, more than could
be readily consumed. The desserts that followed were
excellent. Certificates recognising 10, 20- or 30-year
membership of the club were presented to members who
had achieved the requisite number of years. That included
Janice & Keith Fisher, Dianne Wickson, Alan Altmann, John &
Gillian Honan, Kay Keen, Diana Brown, John Chivers,
Kathleen Brockett and Stephen Hinkley.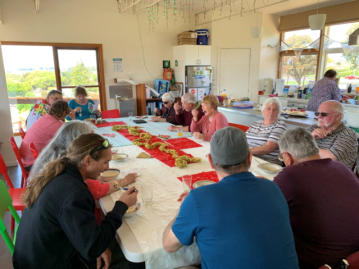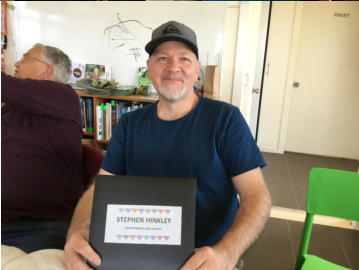 Above

:

L: Lunch at community garden
R: Stephen
Hinkley who has been a member for 10 plus years
(holding his 10 year membership book/certificate),
at the club's end of year BBQ.
2020
WARRNAMBOOL GEM SHOW, JANUARY
11-12
The public came in as soon as we opened the
doors on Saturday and we had an excellent crowd
throughout the day. Members and traders were kept
busy throughout the day which was great for all
concerned! Rod was very busy on the lucky dip,
resulting the in need for extra 'lucky dip prizes' having to
be prepared. The club stall did well, selling plenty of
rocks, books and plants. The canteen was doing a good
job keeping the traders, club members and the public
fed!
Sunday was quieter for both traders and members
with less visitors to the show. This may have been due
to the many other events in Warrnambool over the
weekend. However, overall the attendance was good
and the club made an acceptable profit to support
ongoing activities. We also signed up some new
members.
The club workshop reopened on Saturday, 25th of January.
Welcome to new members Kim, Cathy, Graeme & Shirley.
Thanks to
Larry, John and Alan who spent several hours
continuing repair work/upgrades on the S/S sanding unit to
ensure it would drain correctly. Also, the 'old flat sanding
units' were dismantled and pulleys plus belts replaced so
those sanders can now serve as polishing units. The
drainage for the older belt sanders has also been
improved.

On Saturday, 18/1/20, several club members joined
Rod & Alan W. up at the Mt Shadwell quarry. There was a
Melbourne family and a couple from the USA who were also
visiting the quarry for a bit of fossicking. We focused on the
western part of the quarry, searching the stockpiles, the slopes
and the top of the western wall. Bombs yielding gem peridot
are getting ever harder to find. However, some nicely shaped
bombs were found along with orthoclase, highly aerated scoria
(which will float) and calcite and micro-mount specimens.
The quarry has had a large amount of material removed over
the last few years with demand from the wind-farms and for
road material. As a result, the appearance of the quarry and
has changed significantly.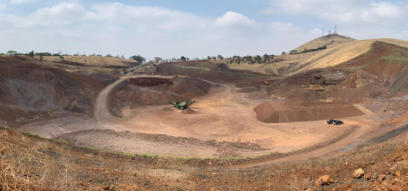 February

: Saturday 22nd. Warrnambool Club members joined
Ballarat club members at the quarry of a day of fossicking.
The weather was excellent with a good turnout of members
from both clubs. Mineral specimens including calcites,
anorthoclase felspar and olivine bombs were collected.
Gemmy bombs were scarce though Stacey found a good one!
A band of black scoria was quite productive.
March

6 & 7: On Saturday & Sunday members of the
Frankston gem club were joined by some of our club
members at the Mt Shadwell quarry.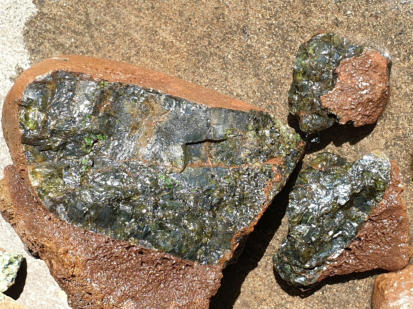 In February 2020, club members Sharon and David visited the
Anglesea area to fossick for Vivianite. The weather conditions
were good and they had a successful time searching for the
Vivianite. The photo below shows one of the nodules after being
cut (external & internal views).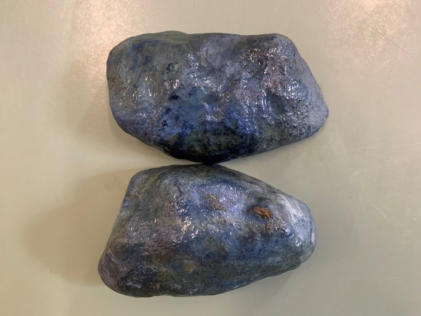 Sharon & Davie have been producing some nice cabbed
pieces and 'freeforms' from Vivianite they collected in
February. The photos below show some of David's work
where he has achieved a nice polish on several pieces!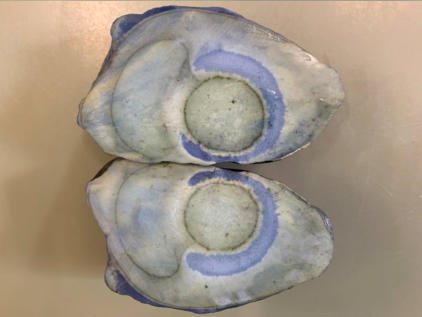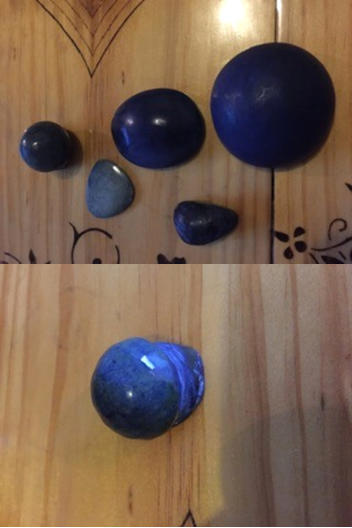 The photos below show some of Sharons vivaniate cabs.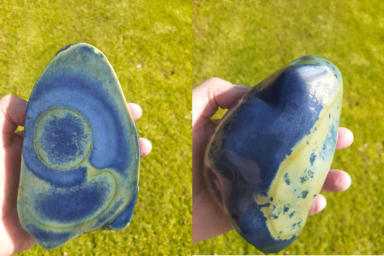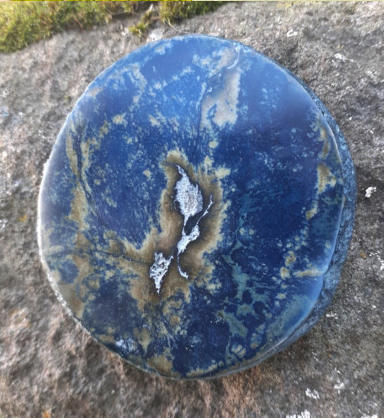 For much of 2020 the club rooms have been closed due to
the Corvid 19 pandemic. Many members have continued
their hobby at home using their own equipment and
fossicking when that was allowed. Below are some photos of
gems and jewellery members have produced this year.
It is

with regret that the Warrnambool Gem Club
must announce that club member

Diana Brown
passed away at home on the 16/9/2020.
•
Diana joined the club in 1990 and as of the end of
2019 had been a member for a total of 30 years.
Diana was a significant contributor to the club over
that time.
•
Diana always helped out in the preparation,
running and packing up of our Gem Shows.
•
She always put up her hand to help with the
Bunnings BBQ's.
•
She pitched in to help with the maintenance and
renovations of the club rooms and contributed
positively and constructively at club meetings.
•
Diana was willing to take on the position of club
secretary, probably the most important position in
the club. She held that position from 1996 to 2005
inclusive. Ten years in a position where she
maintained the club's records meticulously and
ensured we were in compliance with government
requirements. Diana also acted as assistant
secretary for three years from 2014 to 2016.
•
Diana was made a 'life member' of the club in
2006 in recognition of the significant contributions
she had made to the club.
•
Diana's funeral was a private family service held
on Wednesday, 23/9/2020. At the invitation of the
family, Kay Keen and Alan Altmann represented
the club which also sent flowers and a card.
•
I was able to speak to Diana on the phone two
days before she passed. She was in a positive
frame of mind and grateful for the long and
healthy life she had enjoyed until last year. She
wished to leave a few items for the club's
collection and I indicated that we would be happy
to have some items from her collection. She is
happy that some of her collection will live on at the
club.
•
At the service I discovered that Diana was raised
on a farm during the Great Depression and WWII
before the family moved into a 'returned soldiers'
home in Melbourne after the war. Diana and two
friends travelled extensively around the world (pre
international air travel) via ocean liners.
•
Diana had 8 children including Matthew who was
a member of the club at one stage and Matt Said
who was also a member and is now a Geologist
working at Mt Isa in Queensland.
•
At the service I mentioned to some family
members the positive/complimentary comments
about Diana that I received from a number of club
members in reply to the email I had sent out (re
Diana's death). The family were pleased that she
had such good friends at the club.
•
The photos below show Diana at the 2015
Bunnings BBQ & 2018 club 50th anniversary
lunch, plus the 'book mark' handed out at the
service.